Fatah branch glorifies first female suicide bomber as "the true successor of sister Martyr Dalal Mughrabi… Eternity and glory to your pure soul"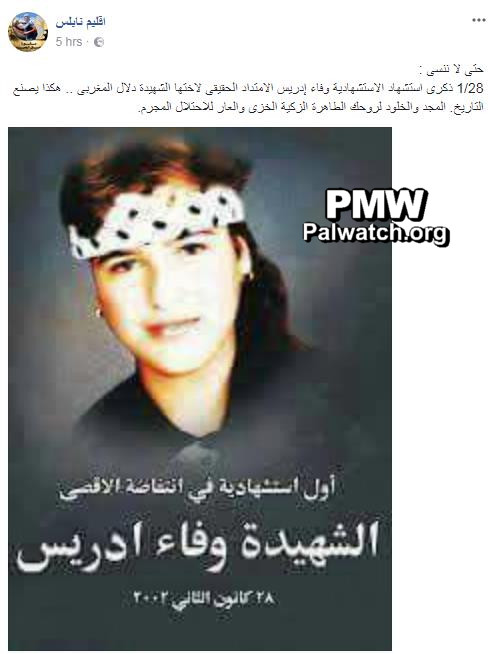 Image and text posted on the Facebook page of the Fatah Movement – Nablus Branch
Posted text:
"So that we do not forget:
Jan. 28 is the anniversary of the death as a Martyr (
Shahid
) of the female Martyrdom-seeker Wafa Idris (i.e., suicide bomber, murdered 1 and wounded over 100), the true successor of sister Martyr Dalal Mughrabi (i.e., terrorist who led murder of 37, 12 of them children). This is how history is made. Eternity and glory to your pure soul, and shame and disgrace to the criminal occupation."
The image shows terrorist Wafa Idris.
Text on image:
"The first female Martyrdom-seeker in the Al-Aqsa Intifada (i.e., PA terror campaign 2000-2005)
Martyr Wafa Idris
Jan. 28 (sic., 27), 2002"
Wafa Idris – The first Palestinian female suicide bomber. Belonging to Fatah, she blew herself up on Jaffa Road in central Jerusalem on Jan. 27, 2002, murdering 1 and wounding over 100. As a volunteer for the Palestinian Red Crescent she was able to bypass Israeli security and enter Jerusalem in a Palestinian ambulance.

Dalal Mughrabi led the most lethal terror attack in Israel's history, known as the Coastal Road massacre, in 1978, when she and other Fatah terrorists hijacked a bus on Israel's Coastal Highway, murdering 37 civilians, 12 of them children, and wounding over 70.