Fatah official in Lebanon: Violence in Jerusalem is "heroic," and a result of Israeli "racist" policies such as "Judaization," and Trump's "Nazi decision" to recognize Jerusalem as Israel's capital
Headline: "The north"
"The Fatah Movement organized a mass procession in the Nahr Al-Bared refugee camp that set out from Martyr (
Shahid
) Yasser Arafat Square in the old refugee camp, with the participation of the Palestinian popular factions and committees in northern [Lebanon]…
Leader of the north branch and Secretary of the factions and Fatah in Nahr Al-Bared Abu Salim Ghneim gave a speech on behalf of Fatah and said: …'We see the Jerusalem Intifada and its heroic popular resistance as a national achievement that came in response to the racist and criminal policies, the summary executions, the burning of families, the continuation of settlement, and the Judaization and tearing apart of Jerusalem, and also as a natural response to [US President Donald] Trump's Nazi decision to consider Jerusalem the capital of "Israel," and his threat to transfer his country's embassy to Jerusalem.'"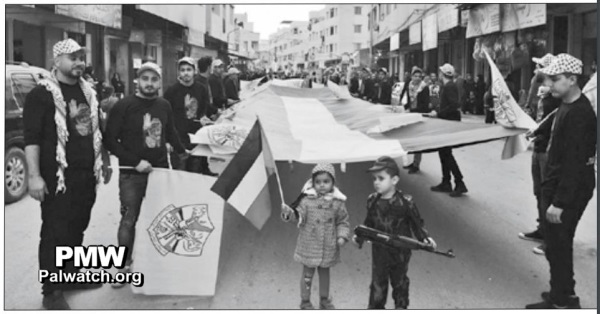 The accompanying picture shows a boy dressed in a military uniform holding a rifle, and next to him is a girl holding a Palestinian flag. To their left is a flag with the Fatah logo that includes a grenade, crossed rifles, and the PA map of "Palestine" that presents all of Israel as "Palestine" together with the PA areas. Behind the children a long Palestinian map is being carried by a group of men.

US recognition of Jerusalem as capital of Israel - On Dec. 6, 2017, US President Donald Trump formally recognized Jerusalem as Israel's capital and instructed the State Department to begin preparations to transfer the US embassy from Tel Aviv to Jerusalem. Trump added that the final borders of Jerusalem will be determined during negotiations.