Fatah: Murder of 10 was "one of the most famous operations"
Itamar Marcus and Nan Jacques Zilberdik
|
"one of the most famous operations"
Attempted suicide bombing was "heroic operation,"
"Glory to you, O son of Palestine -
on to the eternal gardens"


By Itamar Marcus and Nan Jacques Zilberdik
In a video posted on Facebook, Abbas' Fatah party takes pride in the murder of 10 Israelis. The video glorifies a terror attack carried out by terrorist Thaer Hammad in 2002, who shot and murdered 3 Israeli civilians and 7 soldiers one by one with a sniper rifle from a hilltop in Wadi Al-Haramiya between Ramallah and Nablus.

The video presents the attack as a successful mission and the terrorist murderer as a heroic agent:
"Date: Monday, March 3, 2002
Location: Wadi Al-Haramiya
The one who carried it out:
Thaer Kayed Hammad, from Silwad near Ramallah, born in 1980
Target: The Israeli army checkpoint in Wadi Al-Haramiya
Weapon used: A World War II M-1 rifle
At 04:30, Thaer set out in the direction of the checkpoint.
At 06:00, he fired the first bullet.
There were 6 soldiers at the checkpoint, and he killed them.
He hit them one after the other.
Thaer killed another 5 at the checkpoint, so the number rose to 11 (sic., he murdered 10 - 3 civilians and 7 soldiers).
After reaping the soldiers and settlers, his rifle blew up.
He fired just 24-26 bullets, and quietly left the place.
The operation lasted 20 minutes.
Thaer was arrested 20 months after he carried out the operation.
Thaer is serving 11 life sentences.
The Wadi Al-Haramiya operation
is one of the most famous operations carried out by the Palestinian resistance in the second Intifada.
Fatah TV production Montage: Ali Fa'our"
[Facebook page of the Fatah Movement - Bethlehem Branch,
Hammad is serving 11 life sentences for these murders.Palestinian Media Watch exposed a video of similar style glorifying terrorist murderer Dalal Mughrabi who led the Coastal Road massacre in 1978 in which Palestinian terrorists murdered 12 children and 25 Israeli adult civilians. In that video, Fatah claimed that 2-year-old victims were "soldiers" to hide the fact that it murdered children.

Last year, Fatah also glorified murderer Thaer Hammad.

Another Fatah hero of the past was also praised by Abbas' movement recently. Terrorist Muhammad Al-Shamali attempted to carry out a shooting attack and suicide bombing at a supermarket in Efrat on Feb. 22, 2002, but was shot and killed by an Israeli civilian shopping in the store. Fatah termed the attempted murder a "heroic operation," and praised the terrorist as "Martyr":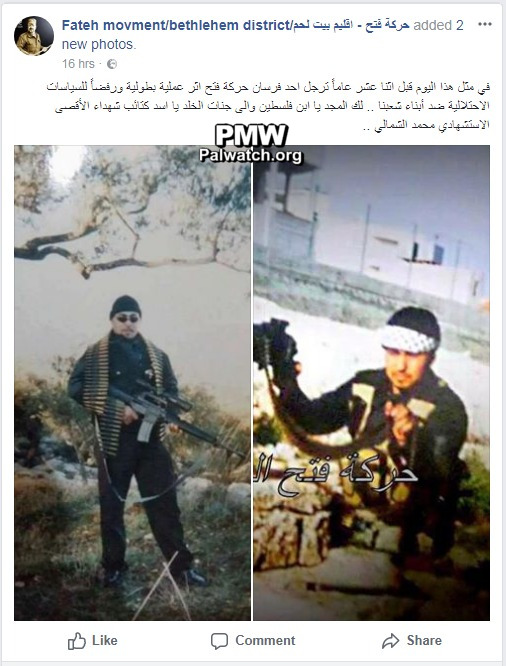 Posted text: "On this exact day 12 years ago (sic., 16 years ago) one of the knights of the Fatah Movement died following a heroic operation (i.e., terror attack) as a sign of resistance to the occupation's policies against the members of our people. Glory to you, O son of Palestine - on to the eternal gardens. He is a lion of the Al-Aqsa Martyrs' Brigades (i.e., Fatah's military wing)
Martyrdom (Shahada) seeker Muhammad Al-Shamali."
[Facebook page of the Fatah Movement - Bethlehem Branch,