PMW in Knesset says government should arrest PA leaders who incited murder
PMW in Knesset calls on government
to initiate legal proceedings against PA leaders
for inciting murder
Steps are necessary to prevent terror wave in next two months in anticipation of the US opening its embassy in Jerusalem on May 14.
Yesterday
Palestinian Media Watch
made a presentation at the Knesset, at the invitation of the "Lobby for Promoting Recognition of Israel's Victory."
PMW's director Itamar Marcus presented an overview of Palestinian terror from 1996 until today, documenting the direct connection between terror incitement by Palestinian leaders and the repeated Palestinian terror campaigns that have left nearly 1500 Israelis murdered since 1994. PMW's Head of Legal Strategies Maurice Hirsch explained that Israeli law permits the arrest of Palestinian leaders on charges of incitement. Short statements were also made by 7 members of Knesset, as well as by 5 family members of Israelis who had been murdered by Palestinian terrorists in the 2015-2016 terror wave.

Marcus' presentation showed that while Israel did its utmost to arrest the terrorists who prepared and committed terror attacks, it gave immunity to the PA leaders who were directly responsible for the terror campaigns. Even when PA leaders' explicit incitement to murder was captured by PMW on PA TV, none of those leaders were ever arrested.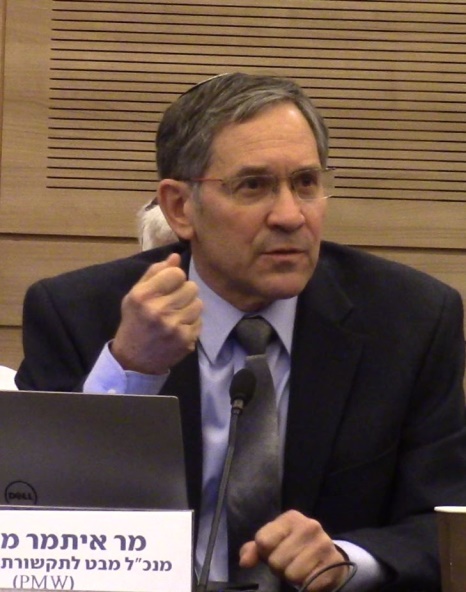 Marcus in the Knesset yesterday
Marcus ended by focusing on Jibril Rajoub, the Palestinian leader who was the worst terror inciter during the 2015-2016 terror campaign, in which Palestinian terrorists murdered 44 people. Rajoub appeared on official PA TV numerous times to declare the murderers Palestinian heroes - "crowns on the heads of Palestinians" - and to "bless and encourage" the terrorists to continue. He recently again called for violence in response to the US plan to move its embassy to Jerusalem.

Marcus told the Knesset members that legal measures must be taken immediately against Rajoub for terror incitement, so the PA leadership understands that Israel will no longer grant immunity to those leaders who promote terror, before a new terror wave begins:
Itamar Marcus to members of Knesset:
"Leading up to May 14 (the date the US embassy will open in Jerusalem), the Palestinian Authority wants there to be terror, wants Israel to pay a price, wants people to be killed. If the PA leadership is allowed to continue inciting murder it certainly will happen. People will pay with their lives for the transfer of the US embassy to Jerusalem. What should be Israel's response? The government of Israel, the police, must take steps against the inciters and start with Jibril Rajoub, who is the worst inciter. He is the one who called for the murder of the relatives of people here in this room. And if nothing is done, I fear what will happen leading up to May 14. Concrete steps must be taken."
News site Arutz 7 reported:
New evidence against Jibril Rajoub was presented by Itamar Marcus, founder of Palestinian Media Watch and by Lt. Col. (res) Maurice Hirsh, Palestinian Media Watch's Head of Legal Strategies, who served for 19 years in the IDF MAG Corps, inter alia as Head of the Military Prosecution for Judea and Samaria.
Also participating in the discussion were experts, Palestinians and bereaved families whose loved ones were murdered in terror attacks, especially those who lost loved ones after Rajoub's direct call to attack Israelis and will be signed on to an official criminal complaint that will be handed to the Israeli Police on their behalf by PMW before the end of the week.
The evidence shows that Rajoub explicitly called for attacks against "settlers and soldiers." [...]
"The evidence clearly demonstrates how incitement among the Palestinian Leadership, over the last three terror waves since 1996 until today, has directly affected the violence on the ground," Marcus said. [...]
"It is necessary to stop respecting the immunity of senior Palestinian Authority officials for their incitement," he added.
"The evidence against Rajoub constitutes a basis for investigation, prosecution, and conviction," Hirsch said. "There ought to be an understanding, according to which the Palestinian Authority, and especially senior officials such as Jibril Rajoub, cannot be allowed to promulgate incitement without legal proceedings being instituted against them."
"Their senior status in the Palestinian society grants their announcements tremendous weight. Turning a blind eye to incitement does not help us reach peace; on the contrary, it generates hate and terrorism. By the end of this week, together with numerous bereaved families who attended the caucus, we will submit a complaint to the police against Rajoub."
During the event, MK Forer presented his law which will allow victims of terrorism and their families to sue the Palestinian Authority.
"The time has come to stop being content with talks about Palestinian incitement, and to actively and concretely fight it," MK Forer said.
Israeli Daily Makor Rishon reported:
PMW's Head of Legal Strategies, Lt. Col. (res.) Maurice Hirsch, told Makor Rishon that "In my last position in the Israeli army I served as Head of Military Prosecution for Judea and Samaria in the Military Advocate General Corps. In the period of the previous terror wave (starting October 2015) the Judea and Samaria Prosecutor's Office developed a legal approach that enabled putting Palestinians on trial for incitement on social media." According to him [Hirsch], on the basis of this legal approach over 200 Palestinians were put on trial for incitement in the period of his tenure. "The evidence against Rajoub significantly exceeds the evidence that constituted a basis for the investigation, trial, and conviction of those 200 Palestinians for incitement," he adds.... Lobby and Israeli Parliament Member Oded Forer said: "As part of my activity as lobby chairman I was exposed to incidents in which senior officials from the Palestinian Authority exploited their power and incited the masses to go out and commit physical harm to Jews and Israelis, and this is a matter that requires immediate action." ... Marcus also argues that the war on incitement needs to be an Israeli interest that is second to none. "There must be an understanding that we will not let the Palestinian Authority leaders - and particularly the senior officials such as Jibril Rajoub - voice incitement without legal proceedings being taken against them. Ignoring incitement will not contribute to achieving peace, and will cause more hatred and encourages terror attacks," said Marcus.