PA uses murderer of 3 as role model to encourage reading

Official PA TV News, on Palestinian Culture Week
Official PA TV narrator:
"In the Qalqilya and Tulkarem districts, the Directorate of Culture, together with the Tamer Institute for Community Education, organized two human chains titled "Baha Is an Idea and the Idea Will Not Die," in honor of Martyr Baha Alyan (i.e., terrorist, murdered 3)."
Director of the Directorate of Culture in the Qalqilya District Anwar Rayyan:
"Our gathering today is about a human reading chain. Martyr Baha Alyan led this chain in 2015 (sic., 2014). Our clear, open, and simple message on this day and at all of our educational gatherings is that we are a people that reads, and if you want to be a people or to build a people you must read."
Representative of the Tamer Institute for Social Education Anwar Rayyan:
"Our basic goal is the encouragement of reading among the children, and we- our presence is important at such activities, in addition to us organizing activities for Reading Week that will begin, Allah willing, on April 7 [2018], next month. Of course, as an institute we also believe in children and therefore it is very important that we encourage children to read."
Click to view video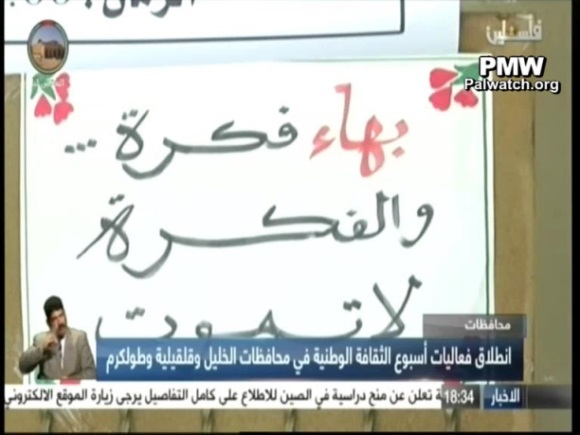 The screenshot shows a sign with the text: "Baha Is an Idea and the Idea Will Not Die"

The Directorate of Culture is a branch of the PA Ministry of Culture.

The Tamer Institute for Community Education is listed among the "networks" under the Swedish Anna Lindh Foundation, and is a member of the Palestinian Non-Government Organizations Network (PNGO), which receives funding by Norway and the EU.

Baha Alyan and Bilal Ghanem – 22 and 23-year-old Palestinian terrorists who on Oct. 13, 2015, boarded a bus in Jerusalem's Armon Hanatziv neighborhood with a gun and a knife and attacked passengers, murdering Israelis Chaim Haviv (78) and Alon Govberg (51), and Richard Lakin (76), and wounding 3 Israelis. Alyan was shot and killed by an Israeli security guard at the scene and Ghanem, a Hamas terrorist who served time in Israeli prison in 2013-2014, was wounded. Ghanem is serving 3 life sentences and an additional 60 years for these murders.