Official Fatah Facebook calls for "freedom" for several terrorist murderers, calls them "heroic prisoners"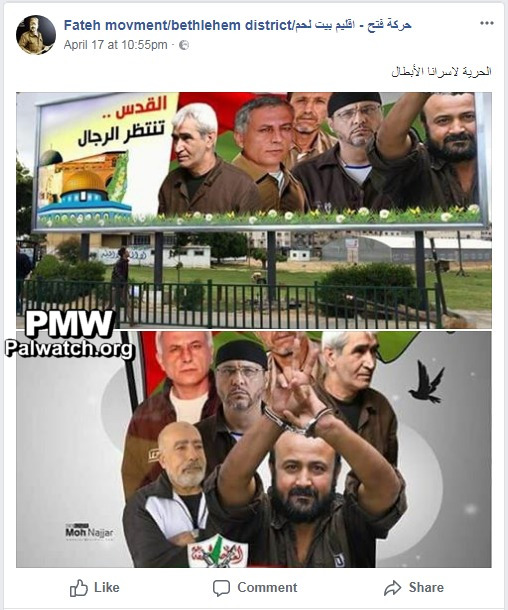 Images and text posted on the Facebook page of the Fatah Movement – Bethlehem Branch

Posted text: "Freedom to the heroic prisoners"

The upper image shows a large billboard. On the left side of it is the Al-Aqsa Mosque, the Dome of the Rock, and the PA map of "Palestine" that presents all of Israel as "Palestine" together with the PA areas. From left to right are the following terrorist prisoners: Ahmad Sa'adat, head of the Popular Front for the Liberation of Palestine terror organization; Karim Younes, murdered 1 together with an accomplice; Nael Barghouti, murdered 1 together with an accomplice; Abdallah Barghouti, responsible for murder of 67; and Marwan Barghouti, orchestrated murder of 5. Behind the terrorists is a Palestinian flag.

Text on billboard: "Jerusalem is waiting for men"

The lower image shows the following terrorist prisoners in clockwise order starting from the top left: Karim Younes; Abdallah Barghouti; Nael Barghouti; Ahmad Sa'adat; Marwan Barghouti; and Fuad Al-Shubaki, a weapons smuggler. Behind them are a Palestinian flag and a flying dove. In front of them at the bottom is the Fatah logo that includes a grenade, crossed rifles, and the PA map of "Palestine" that presents all of Israel as "Palestine" together with the PA areas.

Text at upper left: "#Uncuff_their_handcuffs"

Text at bottom: "O my handcuffs, your time has come to be broken
#Uncuff_their_handcuffs"

Ahmad Sa'adat - serving a 30-year sentence for heading the Popular Front for the Liberation of Palestine (PFLP) terror organization. A song at a PFLP event also praised him for planning the assassination of Israeli Minister of Tourism Rehavam Ze'evi in 2001, but he has not been tried for this crime.

Karim Younes - Israeli Arab serving a 40-year sentence for kidnapping and murdering Israeli soldier Avraham Bromberg in 1980 together with his cousin Maher Younes. Younes was originally sentenced to life in prison, but Israeli President Shimon Peres reduced his sentence in 2012. In May 2017 Younes was appointed by PA Chairman Mahmoud Abbas to the Fatah Central Committee.

Nael and Fakhri Barghouti – Palestinian terrorists who murdered an Israeli army officer in January 1978, near Ramallah. Both were sentenced to life but were released in the Shalit prisoner exchange deal in 2011. Nael Barghouti was arrested again in 2014 for violating the terms of his release by offering Hamas to serve as its minister of prisoners' affairs, and is serving a life sentence plus an additional 18 years.

Abdallah Barghouti - Palestinian terrorist who prepared explosives for terror attacks in which 67 people were murdered: Sbarro restaurant in Jerusalem, Aug. 9, 2001 – 15 murdered; triple attack at Ben Yehuda pedestrian mall, Jerusalem, Dec. 1, 2001 – 11 murdered; Moment Café, Jerusalem, March 9, 2002 - 11 murdered; Sheffield Club, Rishon LeZion, May 7, 2002 – 15 murdered; Hebrew University, Jerusalem, July 31, 2002 - 9 murdered; Bus 4 in Tel Aviv, Sept. 19, 2002 - 6 murdered. Barghouti is serving 67 life sentences.

Marwan Barghouti – Palestinian terrorist who is serving 5 life sentences for orchestrating three shooting attacks that murdered 5 people: one attack in Jerusalem (June 12, 2001) in which Greek monk Tsibouktsakis Germanus was murdered by terrorist Ismail Radaida and another unidentified terrorist, another attack at a gas station in Givat Zeev near Jerusalem (Jan. 15, 2002) in which Yoela Hen, 45, was murdered by terrorists led by Mohammed Matla, and one shooting and stabbing attack at the Seafood Market restaurant in Tel Aviv (March 5, 2002) in which Eli Dahan, 53, Yosef Habi, 52, and Police Officer Sergeant-Major Salim Barakat, 33, were murdered by terrorist Ibrahim Hasouna. When arrested by Israel in 2002, Barghouti headed the Tanzim (Fatah terror faction). After he was convicted and imprisoned, he was re-elected member of the Palestinian Authority parliament. On Dec. 4, 2016, he was elected to Fatah's Central Committee.

Fuad Al-Shubaki - senior PA official serving a 20-year prison term. He was behind the attempt to smuggle 50 tons of illegal weapons to the Palestinian Authority aboard the Karine A weapons' ship in 2002.