Fatah student movement glorifies terrorist "Martyrdom-seeker," depicts him holding a rocket launcher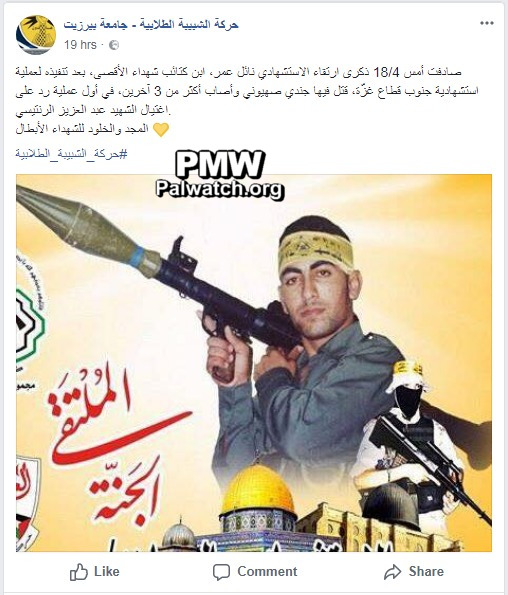 Image and text posted on the Facebook page of the Fatah Shabiba Student Movement at Birzeit University
Posted text:
"Yesterday, April 18 [2018], was the anniversary of the ascent [to Heaven] of Martyrdom-seeker Nael Omar (i.e., terrorist, shot at Israeli soldiers), a son of the Al-Aqsa Martyrs' Brigades (i.e., Fatah's military wing), after he carried out a Martyrdom-seeking operation in the southern Gaza Strip, in which a Zionist soldier was killed and three others were wounded (sic., Omar inflicted no casualties), as part of the operation of the first response to the assassination of Martyr (
Shahid
) Abd Al-Aziz Al-Rantisi (i.e., co-founder of the terrorist organization Hamas).
Glory and eternal life to the heroic Martyrs.
The [Fatah] Shabiba Student Movement"
The image shows terrorist Nael Omar holding a rocket launcher and wearing a yellow Fatah headband. Below him is a masked terrorist holding an assault rifle and wearing a yellow Fatah headband, and further below is the Dome of the Rock and the Al-Aqsa Mosque. On the left of the image is the Al-Aqsa Martyrs' Brigades logo that shows crossed assault rifles over the Dome of the Rock, and below it is the Fatah logo that includes a grenade, crossed rifles, and the PA map of "Palestine" that presents all of Israel as "Palestine" together with the PA areas.
Text on image:
"We will meet in Paradise"
Nael Omar – Fatah terrorist who shot at Israeli soldiers next to Kissufim, adjacent to the Gaza Strip, on April 18, 2004. The soldiers returned fire and killed Omar.