PA daily publishes pictures of riots, with headline: "70 years of occupation – we will remain and we will struggle"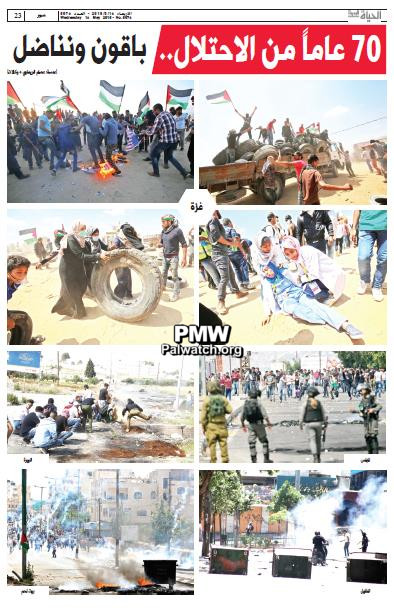 Images published in the official PA daily
Headline: "70 years of occupation – we will remain and we will struggle"
The day after
Nakba
Day – which commemorates "the catastrophe" of Israel's establishment – the official PA daily dedicated an entire page to images from various violent Palestinian riots in the Gaza Strip and the West Bank. Rioters can be seen burning Israeli and American flags, waving Palestinian flags, preparing tires to be burned, treating wounded, and confronting Israeli security forces.
Palestinians commemorate
Nakba
Day on May 15, the day after the establishment of Israel. On May 15, 1948, combined forces from Egypt, Jordan, Syria and Iraq joined local Arab forces in an attempt to eradicate the newly established State of Israel. The Nakba (Arabic = catastrophe) refers to the establishment of Israel, and the subsequent defeat in the war, including the killing and displacement of Arab civilians that occurred during the war.