PA daily cartoon depicts Israeli soldier poisoning a Palestinian baby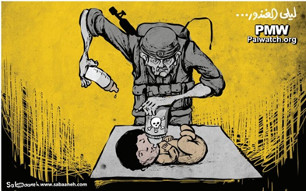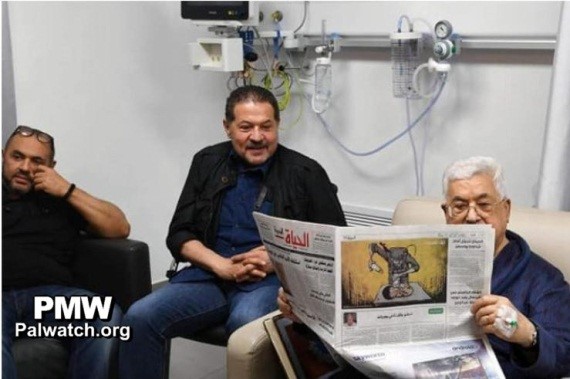 Cartoon published on the back cover of the official PA daily
Text on cartoon:
"Laila Gandour (see note below- Ed.)"
The cartoon shows an Israeli soldier removing a bottle from a baby's mouth and replacing it with a bottle marked with the skull and crossbones symbol for poison.
The cartoon refers to Laila Gandour, an 8-month-old Palestinian baby girl who died on May 21, 2018, at the March of Return riots on the Gazan border with Israel, to which her family had brought her. The Palestinians have claimed that she died of tear gas inhalation; however, she suffered from existing health conditions and the cause of death has not been determined. Pictures of Gandour and her funeral have become a symbol of the border riots.
"The March of Return" refers to massive violent riots in Gaza in which thousands of Palestinians are demonstrating on the border with Israel and attempting to cut through the security fence, attacking with firebombs, flaming kites, and gunfire. The riots began on March 30, 2018, and were scheduled to last for 6 weeks until Nakba Day on May 15. On May 14, the day the US embassy opened in Jerusalem, the riots escalated and 62 Palestinians were killed. A senior official of the terror organization Hamas, Salah Bardawil, stated that 50 of the 62 belonged to Hamas, while Islamic Jihad identified 3 others as belonging to it.

The day after the cartoon was published, a picture was taken of PA Chairman Mahmoud Abbas reading the official PA daily while hospitalized in Ramallah, and this cartoon was clearly visible on the back cover. This picture of Abbas has been widely disseminated in the media, possibly to show him being well after being hospitalized with pneumonia.