PMW posters of terrorists and their PA salaries distributed to Israeli MPs at committee hearing
PMW posters of terrorists and their rewards
distributed to Israeli MPs at committee hearing
PMW invited to hearing dealing with Israeli legislation
to combat the PA's payment of salaries to terrorists
Palestinian Media Watch
was invited to the Israeli parliament's Foreign Affairs and Defense committee once again last week for the latest debate on new legislation to deduct the amount the Palestinian Authority pays terrorists and their families from Israel's tax transfers to the PA.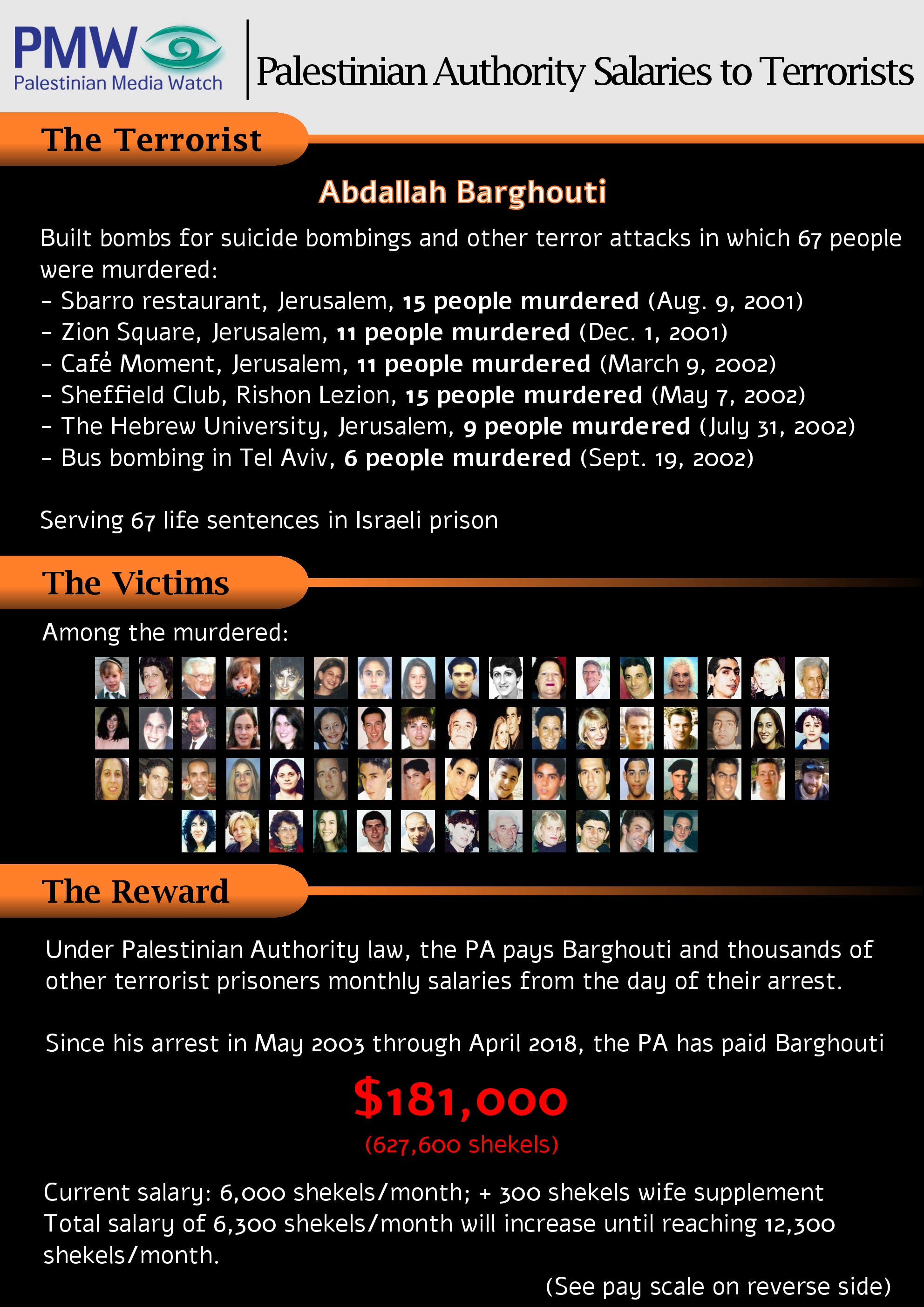 One of the posters PMW distributed
In order to impress upon members of Parliament the horror of the PA practice of paying salaries to terrorists, PMW produced 13 small posters with information about a number of Palestinian terrorists, their hundreds of victims and how much money the PA has paid each of the terrorists since they were arrested.
PMW's Director, Itamar Marcus, and Head of Legal Strategies, Maurice Hirsch, both actively participated in the debate. In addition, PMW had invited relatives of terror victims who also spoke at the hearing, demanding that Israel not transfer any money to the PA that might go to pay salaries to the murderers of their loved ones. Some of them held up PMW's posters while they spoke, documenting how much money the PA has already paid the terrorist who murdered their relatives.
Unusually, the committee debate discussed two different drafts for legislation. One draft legislation, initiated by MP Elazar Stern (of the opposition Yesh Atid party), requires that the government categorically deduct any funds paid by the PA to reward terrorism from the tax monies collected. The second draft legislation, initiated by the government, also requires the deduction of any funds paid by the PA to reward terrorism from the tax monies collected, but adds a discretionary power (granted to the Israeli cabinet) to waive all or part of the deduction for reasons of national security or foreign relations.
After the discussion, the head of the Foreign Affairs and Defense committee, MP Avi Dichter (of the coalition Likud party) stated that the wide discretionary provision included in the government's legislation would not pass the committee. In order to give it an opportunity to reconsider the provision, MP Dichter gave the government two weeks to return to the committee with a revised suggestion.
Before and after the hearing, Itamar Marcus and Maurice Hirsch were interviewed by the press. Click to read interviews with
JNS
and
the Jerusalem Post
.
According to its
2018 budget
, the PA allocated 550 million shekels ($158 million) for paying salaries to terrorist prisoners and released terrorists and an additional 687 million shekels ($197 million) for payments to families of the so-called "Martyrs" (including suicide bombers and other killed terrorists) and wounded.