UNRWA official at meeting with PA Education Minister: "There is not any incitement in the [Palestinian] schoolbooks"
Headline: "UNRWA: There is no incitement in the Palestinian schoolbooks"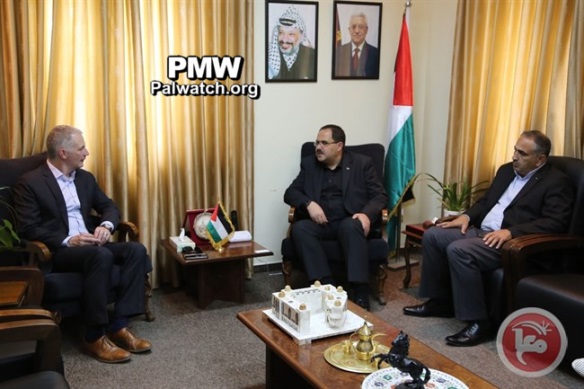 "UNRWA (UN Relief and Works Agency for Palestine Refugees in the Near East) Director in Jerusalem [and the West Bank] Scott Anderson emphasized that there is not any incitement in the [Palestinian] schoolbooks. He emphasized that these schoolbooks establish the love of knowledge, life, and creation within the students, and that they do not incite as the Israeli occupation claims.
This was said during a meeting that was held today [May 28, 2018] between Anderson and [PA] Minister of Education and Higher Education [and Fatah Central Committee Deputy Secretary] Sabri Saidam at the [PA] Ministry [of Education] building. The two sides discussed ways of strengthening the cooperation in order to serve the Palestinian educational sector – particularly in the shadow of the war that the occupation is waging against this sector, and in the shadow of the pressures that are being exerted on UNRWA through cutting the financial aid that is given to it (refers to the US cutting funding to UNRWA; see note below –Ed.).
Anderson emphasized UNRWA's opposition to the distortion of the Palestinian schoolbooks, and emphasized that despite its financial hardships, it is committed to teaching students who are not refugees in places where the [PA] Ministry [of Education] has no schools… Saidam emphasized that the ministry stands by UNRWA in the shadow of the organized attack whose goal is to limit its activity and programs in Palestine."
The article includes a picture of the meeting between Director of UNRWA Operations in the West Bank Scott Anderson and PA Minister of Education Sabri Saidam.

In early January 2018, the US froze two planned payments to UNRWA (UN Relief and Works Agency for Palestine Refugees in the Near East) for more than $100 million, and the US administration spoke about the need to reexamine and conduct a reform of the UN body. This occurred after the PA refused to negotiate with Israel and cut diplomatic ties with America following US recognition of Jerusalem as Israel's capital on Dec. 6, 2017.