PA television program for Ramadan remembers terrorist murderer of 2 as a "Martyr," refers to terrorist attacks as "operations"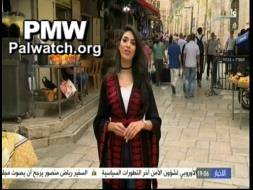 Official PA TV, new program Jerusalem Ramadan for the Muslim fasting month of Ramadan on various sites in Jerusalem's Old City

Official PA TV host: "Of course there are many stores on this street, [Al-Wad Street,] and if we pay attention there is an intensive, constant, and daily presence of occupation soldiers and authorities here. If we go back to the central reason for this intensive presence of occupation soldiers and authorities, the reason is that on March 10, 2015, young Muhannad Halabi (i.e., terrorist, murdered 2) became a Martyr (Shahid) on this street, and several Martyrdom-seeking operations (i.e., terror attacks) by young people from Jerusalem took place here."

Muhannad Halabi - 19-year-old Palestinian terrorist who murdered 2 Israelis, Rabbi Nehemiah Lavi and Aharon Bennett, and injured Bennett's wife, Adele, and their 2-year-old son in a stabbing attack in the Old City of Jerusalem on Oct. 3, 2015. Following the attack, he was shot and killed by Israeli security forces. Prior to his attack, in a post to his private Facebook page, the terrorist referred to recent terror attacks as part of a "third Intifada," and said that it was a response to Israel's actions at the Al-Aqsa Mosque and that the Palestinian people would not "succumb to humiliation." This is a reference to the PA libel that Israel is plotting to take over and destroy the Al-Aqsa Mosque and to the PA's portrayal of Jews praying on the Temple Mount as "an invasion of the Al-Aqsa Mosque."