PA TV to pregnant Palestinians: Your fetus will be a "Martyr for Palestine"
Itamar Marcus and Nan Jacques Zilberdik
|
PA TV to pregnant Palestinians:

Your fetus will be a "Martyr for Palestine"

"Palestine is etched on the heart of the fetus

A proud Martyr in his mother's womb"-

song on PA TV, Fatah TV, and PA radio idealizes Martyrdom
l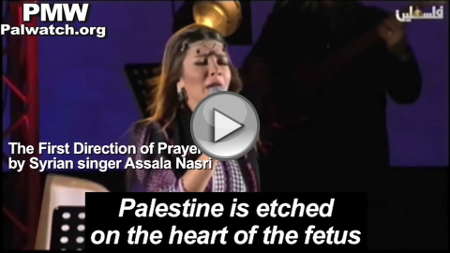 by Itamar Marcus and Nan Jacques Zilberdik


Pregnant mothers all over the world are busy imagining the future of their unborn child and wishing him/her the best. The Palestinian Authority is promoting a song lately in which mothers are taught to see their unborn fetus as a future "Martyr for Palestine." The song has been broadcast on official PA radio, Fatah's Awdah TV, and now official PA TV.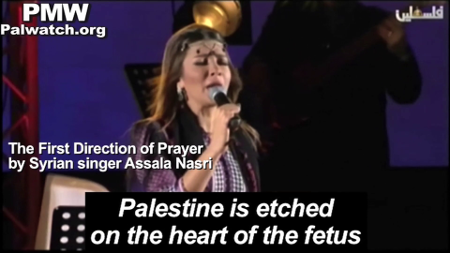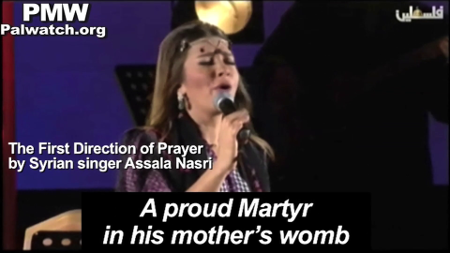 "Our Martyrs are convoys and our bones are mountains

We don't surrender to the lowly

We aren't deterred by imprisonment

Palestine is etched on the heart of the fetus

A proud Martyr in his mother's womb

And the Arab state will remain ours - Arab, Arab Palestine...

We [hold] the rifles to our chests and our eyes are raised to you

Our homes are trenches and our souls are the sacrifice for you

O Jerusalem, you will not remain stolen."

[Official PA TV, June 19 and 26, 2018]


"Martyrs" (Shahids) are those who die for Allah. "Martyrdom" has been presented by the PA as the most honorable status achievable in Islam.


Palestinian Media Watch
reported when this song appeared on PA radio together with
five other songs all encouraging "Martyrdom."


The "from fetus to Martyr" image has been used in the past by the PA and Hamas. When a Palestinian terrorist murderer, Yasser Hamdouni, collapsed while exercising in an Israeli prison in 2016, PA District Governor of Ramallah Laila Ghannam comforted his mother, using the image: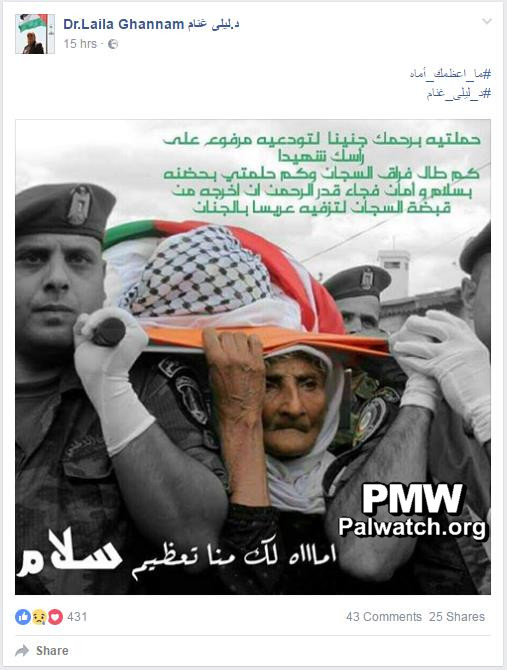 Text on image: "You carried him in your womb as a fetus to be separated from him as he is raised over your head as a Martyr (Shahid).

How long the separation, [due to] the jailer, and how you dreamed of embracing him in peace and security, and God's decree arrived, and he left the grip of the jailer so that you will accompany him as a groom to Paradise (i.e., Martyr's funeral is considered wedding to the 72 Virgins in Paradise in Islam)."

[Facebook page of District Governor of Ramallah and El-Bireh Laila Ghannam, Sept. 27, 2016]

The picture shows the mother of terrorist Yasser Hamdouni accompanying PA Security Forces carrying her son's body at his funeral. The body is wrapped in a Palestinian flag.

A preacher on Hamas' TV taught in 2009 that every Muslim fetus seeks Jihad:


Preacher: "True foundation and education start in the mosques... Do you realize what the mosque is? It is a prime factory educating men to fear and please Allah; [it is] the prime factory educating Jihad fighters...

The mosque is the life of Muslims, and the symbol of their courage and honor... The Palestinian fetus in its mother's womb, the Muslim fetus throughout the world in its mother's womb, call [on Muslims] to unite through fear of Allah, through pleasing Him, and through choosing Jihad and Resistance [terror]."

[Al-Aqsa TV (Hamas), April 24, 2009]


Yasser Dhiab Hamdouni was serving a life sentence for participating in the murder of Israeli citizen Avner Maimon in the Palestinian town of Ya'abad in the West Bank (June, 12, 2003). Hamdouni, a member of the Al-Aqsa Martyrs' Brigades (Fatah's military wing), died on Sept. 25, 2016, after collapsing while exercising in the Israeli Rimon Prison yard.