Fatah poster displays armed fighter with map of Palestine that erases Israel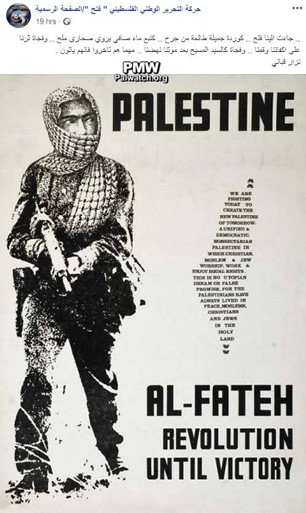 Image and text posted on the official Fatah Facebook page
Posted text:
"Fatah came to us, like a beautiful rose that blossoms out of a wound, like a spring of pure water that waters a desolateness of salt. And suddenly, we rebelled against our shrouds and stood upright. And suddenly, like Jesus, we were resurrected. Regardless of how late they may be, they will come.
[Syrian poet] Nizar Qabbani"
The image shows an old Fatah poster. A man wearing a
keffiyeh
(Arab headdress) is holding a rifle. Next to him is the map of "Palestine" that presents all of Israel as "Palestine" together with the PA areas; the map is made up of text in English.
Text in English on map:
"We are fighting today to create the new Palestine of tomorrow, a unified & democratic nonsectarian Palestine in which Christian, Moslem & Jew worship, work & enjoy equal rights. This is no utopian dream or false promise, for the Palestinians have always lived in peace, Moslems, Christians, and Jews in the holy land."
Text at top of image in English:
"Palestine"
Text at bottom of image in English:
"Al-Fateh (i.e., Fatah)
Revolution until victory"