Murderer of young father declared a "Martyr" by the PA and Fatah
Itamar Marcus and Nan Jacques Zilberdik
|
Murderer of young father declared a "Martyr"
by the PA and Fatah
By Itamar Marcus and Nan Jacques Zilberdik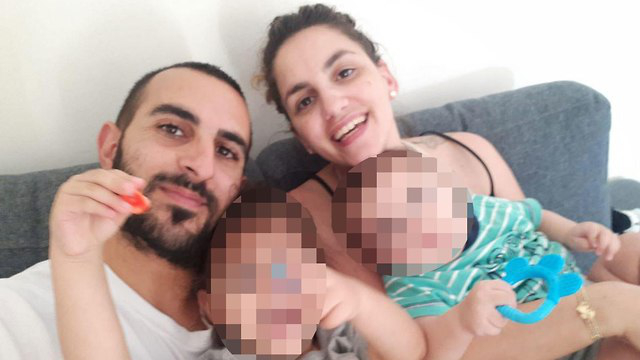 Yotam with his wife and children
(photo: Ynet)
On Thursday, 17-year-old terrorist Muhammad Tareq Dar Yusuf murdered a 31- year-old Israeli father of two, Yotam Ovadia, and injured two others, before he was shot and killed. The very next day, both the Palestinian Authority and Fatah declared him a "Martyr" (Shahid).
By declaring the murderer a "Martyr", the PA is saying that he did an exemplary act according to Islam, for which he will be
rewarded
in the afterlife by Allah. In addition, the PA will reward the terrorists' family financially, as the PA does all families of so-called "Martyrs," with a one-time grant of 6,000 shekels ($1,643) and a monthly allowance for life of 1,400 shekels ($383).
The official PA daily reported:
"A young man from Kubar died as a Martyr after stabbing three settlers north of occupied Jerusalem."
[Official PA daily Al-Hayat Al-Jadida, July 27, 2018]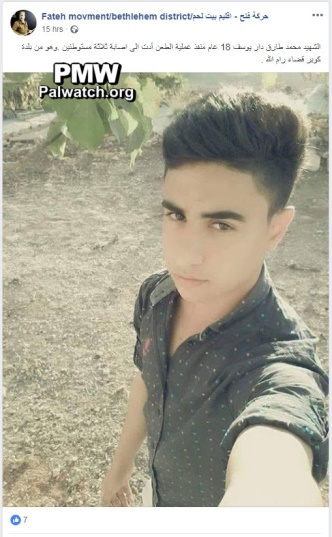 Fatah's Bethlehem branch posted this picture of the terrorist murderer on its Facebook page with the following text:
"Martyr (Shahid) Muhammad Tareq Dar Yusuf, 18 (sic., 17), the one who carried out the stabbing operation that led to the wounding of three settlers (sic., 1 was murdered). He is from the village of Kubar in the Ramallah district."
[Facebook page of the Fatah Movement -
Bethlehem Branch,
July 27, 2018]