District Governor of Ramallah visits home of terrorist who murdered 1 and injured 2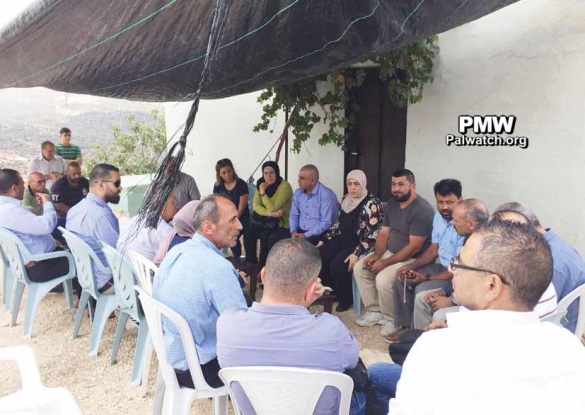 Headline: "Ghannam visits the residents of the town of Kubar and demands international protection for our people"

"Ramallah and El-Bireh District Governor Laila Ghannam and members of the Fatah Movement branch in the district yesterday [July 29, 2018] visited the residents of the town of Kubar that is north of Ramallah, following the occupation forces' attack on the town that has been continuing for a few days.

During her meeting with a group of residents of the town, Ghannam noted that the occupation is continuing to target all of the Palestinians without deterrence and without interference. She demanded international protection for our defenseless people and immediate action from all of the international institutions.
Ghannam said that the resolve of the members of our people and their defiance of the occupation's brutality are a message, which says that this people is adhering to life despite the attempts of the occupation's violence machine to spread death…
Ghannam explained that the break-in to the home of Martyr (Shahid) Muhammad Tareq (i.e., terrorist, murdered 1), the search of items in it, and its measurement ahead of its destruction are collective punishment that the humanitarian laws define as a crime. She noted that our young people ask only for a dignified life, like the rest of the peoples of the world, and that the occupation – which arrests, targets, murders, acts violently, and controls the land and the holy sites – bears the responsibility for the state of general rage that the Palestinians feel."

The article includes a picture of Ramallah and El-Bireh District Governor Laila Ghannam sitting with a group of people.
Text under the picture: "From the visit to the home of the Martyr in the village of Kubar"

Muhammad Tareq Dar Yusuf – 17-year-old Palestinian terrorist who infiltrated the town of Adam north of Jerusalem and stabbed and murdered Israeli civilian Yotam Ovadia on July 26, 2018, and then stabbed and wounded two other Israeli civilians, one of whom shot and killed Yusuf.