PA glorifies Palestinian teenager who assaulted Israeli soldiers and supports suicide bombings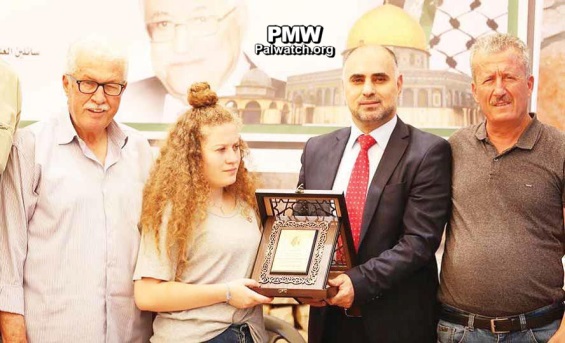 Headline: "The [PA] Ministry of Information honors released [prisoner] Ahed Tamimi and her mother"
"Acting [PA] Minister of Information Dr. Fayez Abu Aita… conveyed to the girl Ahed [Tamimi] (i.e., Palestinian teenager who assaulted Israeli soldiers; see note below –Ed.) and to her family, which has become the symbol of peaceful popular resistance, the blessings of [PA] Chairman Mahmoud Abbas and [PA] Prime Minister Rami Hamdallah. He praised their heroic role and their legendary resolve.
He said that the girl Tamimi has established a new covenant (play on Ahed's name, which means "covenant" –Ed.) for resisting the occupation that is armed 'from head to toe,' and that she is a great example that will be imitated in the international arenas. [This will be an example] that will establish a struggle implementing the principle of 'don't bang your head against the wall.'"
Ahed Tamimi
– Female Palestinian teenager who assaulted Israeli soldiers on Dec. 15, 2017 and promoted suicide bombings in a filmed message immediately afterwards. After serving 8 months in prison, she met with PA Chairman Mahmoud Abbas on July 29, 2018, who called her "a role model for the Palestinian struggle."