Head of PLO prisoners' org says won't give in to US and Israeli pressure on prisoners' salaries, blesses prisoners, and visits mother of 6 terrorists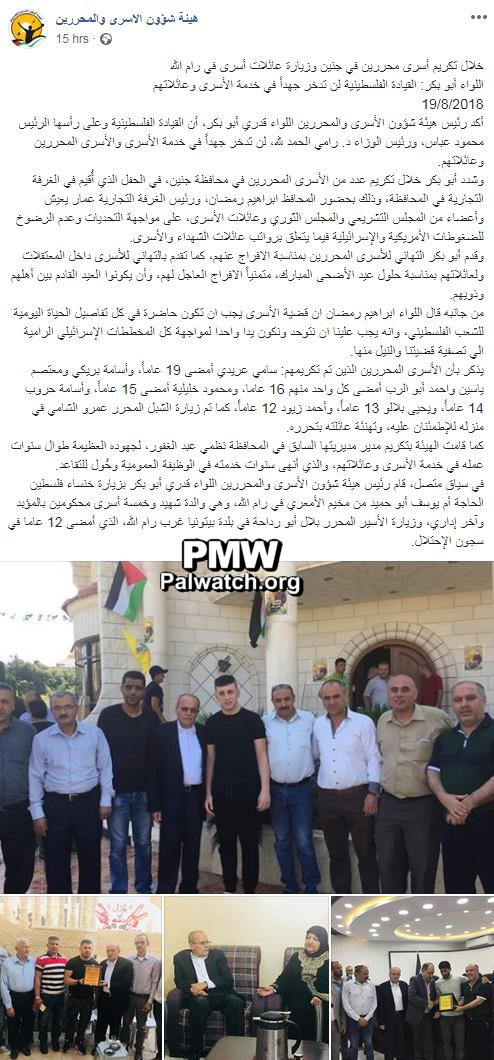 Images and text posted on the Facebook page of the PLO Commission of Prisoners' Affairs
Posted text:
"Director of [PLO] Commission of Prisoners' Affairs Maj. Gen. Qadri Abu Bakr emphasized that the Palestinian leadership – led by [PA] President Mahmoud Abbas and [PA] Prime Minister Rami Hamdallah – will make every effort for the prisoners, the released prisoners, and their families. During a ceremony honoring some released prisoners in the Jenin district, Abu Bakr emphasized… that we must deal with the challenges, and that we must not give in to the American and Israeli pressure on everything connected to the salaries (
rawatib
) of the Martyrs (
Shahids
) and the prisoners. Abu Bakr congratulated the released prisoners on their release. He also blessed the prisoners within the prisons and their families for the blessed Eid Al-Adha (i.e., Muslim "Sacrifice Feast" holiday)…
On the same matter, Director of Commission of Prisoners' Affairs Qadri Abu Bakr visited Khansa of Palestine Um Yusuf Abu Hmeid (i.e., mother of 6 terrorists) from the Al-Amari refugee camp in Ramallah. She is the mother of a Martyr, 5 prisoners who were sentenced to life (sic., 4, the fifth is currently on trial), and an administrative [detainee]."
The image shows Director of PLO Commission of Prisoners' Affairs Qadri Abu Bakr sitting with Um Yusuf Abu Hmeid.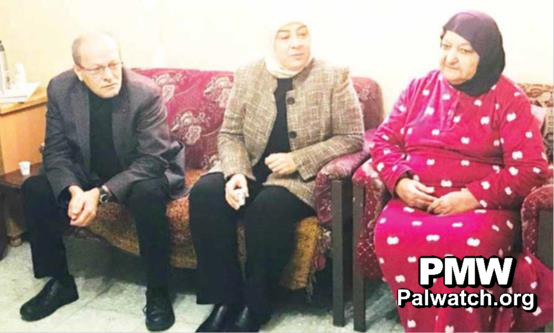 Click to view bulletin

Um Nasser Abu Hmeid (Um Yusuf Abu Hmeid/Latifa Abu Hmeid) – Palestinian woman who is famous and admired in the Palestinian Authority for being the mother of 4 terrorist prisoners serving multiple life sentences, another terrorist who admitted to murdering an Israeli soldier, and another terrorist son whom the PA refers to as a "Martyr." Abu Hmeid is also called Khansa of Palestine, a name that refers to the woman Al-Khansa in the earliest period of Islam who sent her four sons to battle and rejoiced when they all died as Martyrs. Abu Hmeid was honored by the PA in 2010 and in 2015, and was chosen in 2011 to launch the PA's statehood campaign with the UN.
Her terrorist sons are: Islam Yusuf Abu Hmeid, who admitted to murdering 1 on May 24, 2018, and is on trial; Muhammad Abu Hmeid, who is serving 2 life sentences and 30 years for involvement in terror attacks; Nasser Abu Hmeid, who is serving 7 life sentences and 50 years for murdering 7 Israeli civilians and 12 attempted murders; Nasr Abu Hmeid, who is serving 5 life sentences for involvement in two terror attacks in which 4 were murdered and arms dealing; Sharif Abu Hmeid, who is serving 4 life sentences for involvement in terror attacks in which 4 were murdered; Abd Al-Mun'im Muhammad Yusuf Naji Abu Hmeid, who murdered 1 on Feb. 13, 1994, and was killed by Israeli military undercover agents on May 31, 1994. An addiitonal seventh son is currently being held in administrative detention.



» View analysis citing this item