Belgian funded PA school formerly named after terrorist murderer Dalal Mughrabi changes name to "The Belgian School"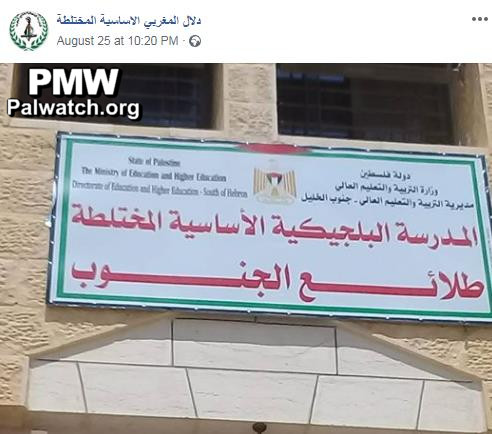 Picture posted on the Facebook page of the Dalal Mughrabi Coed School in Beit Awwa
The name of the Facebook page has not been changed even though the school was officially renamed The Belgian School – Tala'ei Al-Janoub instead of the Dalal Mughrabi Coed School in August 2018. The Facebook page still features the name of terrorist Dalal Mughrabi, who led the murder of 37, 12 of them children.
The picture shows a sign on the building with the following text:
"The State of Palestine
[PA] Ministry of Education and Higher Education
Education Directorate (i.e., branch of the PA Ministry of Education) – Southern Hebron
The Belgian Coed Elementary School
Tala'ei Al-Janoub"
Picture posted on the Facebook page of the Dalal Mughrabi Coed School on Aug. 5, 2018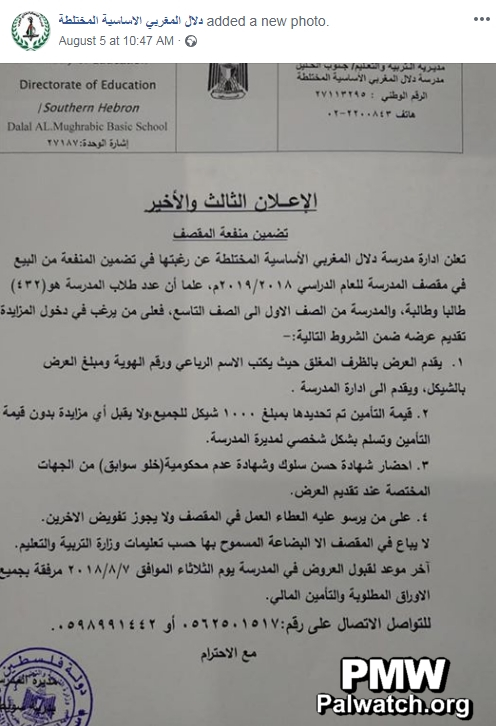 The picture shows a notice regarding the operation of the cafeteria in the Dalal Mughrabi Coed Elementary School. It proves that on Aug. 5, 2018, this school funded by Belgium was still named after terrorist murderer Dalal Mughrabi. Later in August 2018, the school was officially renamed The Belgian School – Tala'ei Al-Janoub instead of the Dalal Mughrabi Coed School following PMW's reports on the issue. The school's Facebook page still features the name of terrorist Dalal Mughrabi, who led the murder of 37, 12 of them children.

Dalal Mughrabi led the most lethal terror attack in Israel's history, known as the Coastal Road massacre, in 1978, when she and other Fatah terrorists hijacked a bus on Israel's Coastal Highway, murdering 37 civilians, 12 of them children, and wounding over 70.

"The Belgian School – Tala'ei Al-Janoub" - School built with Belgian funding in Beit Awwa, Hebron district. Previously known as "The Dalal Mughrabi Coed School"\"Martyr Dalal Mughrabi Coed Elementary School"\"The Martyr Dalal Mughrabi Elementary School". PMW exposed that the school was named after terrorist Dalal Mughrabi in September 2017 and formally complained to the Belgian government, which immediately condemned the PA. In July 2018, PMW discovered the school was still named after Dalal Mughrabi and notified the Belgian government, which again condemned the PA. In August 2018 the PA changed the school's name to "The Belgian School - Tala'ei Al-Janoub" and gave the previous name to another school in the area, changing it from "The Beit Awwa Elementary School for Girls" to "The Martyr Dalal Mughrabi Elementary School." It also began construction of another school in the area, to be called "The Second Dalal Mughrabi Republic School and Kindergarten." See PMW's bulletin for more information: http://www.palwatch.org/main.aspx?fi=157&doc_id=26264


» View analysis citing this item