Trump is shark and Israel's puppet in latest Trump-mocking cartoons in official PA daily
Itamar Marcus and Nan Jacques Zilberdik
|
Trump is shark and Israel's puppet in latest
Trump-mocking cartoons in official PA daily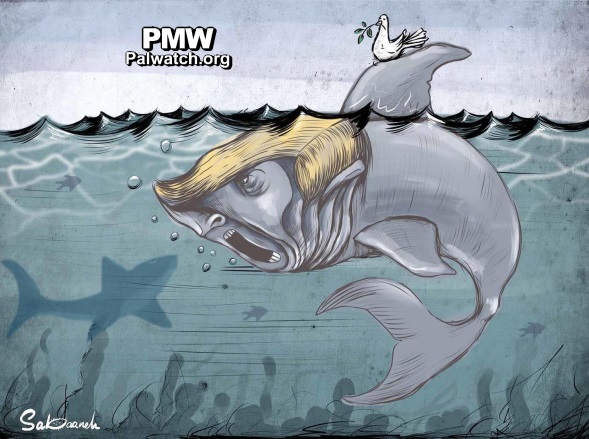 By Itamar Marcus and Nan Jacques Zilberdik


The Palestinian Authority leadership continues to demonize US President Trump because of his support for Israel, and PA and Fatah repeatedly express their contempt in words and cartoons. In the cartoon above, one of several recent Trump-mocking cartoons printed in the official PA daily, Trump is portrayed as a shark. On its fin sits a dove with an olive branch in its beak. [Official PA daily Al-Hayat Al-Jadida, Oct. 7, 2018]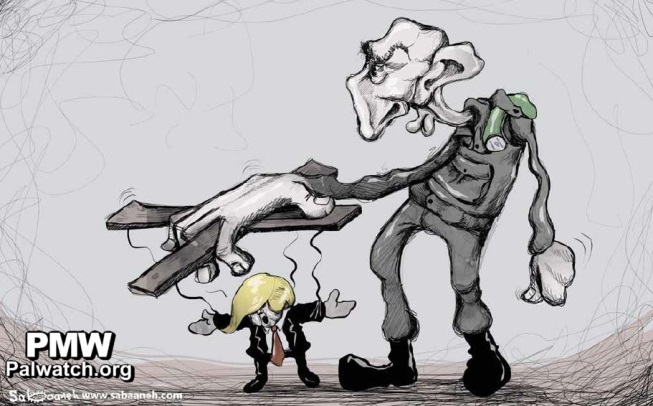 In this cartoon, Trump is Israel's puppet being controlled by an Israeli soldier depicted with a grotesque face. [Official PA daily Al-Hayat Al-Jadida, Aug. 28, 2018]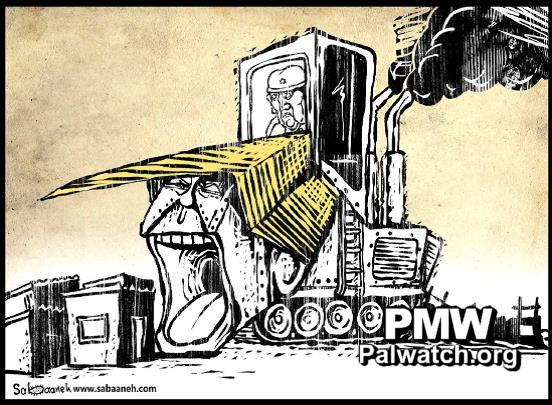 The same claim, that Trump is controlled by Israel, is expressed in this cartoon where Trump is a bulldozer driven by an Israeli soldier with a Star of David on his helmet. The Trumpdozer is approaching some shacks, about to devour them. [Official PA daily Al-Hayat Al-Jadida, Sept. 22, 2018]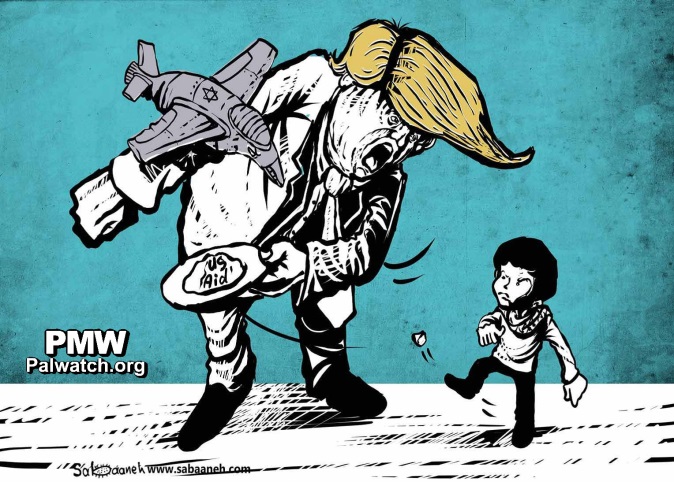 Earlier this week, this cartoon showed Trump snatching away US aid from a small Palestinian kid, who defiantly kicks a stone at Trump. On Trump's arm is a bird in the shape of an Israeli military jet with a Star of David on it. [Official PA daily Al-Hayat Al-Jadida, Oct. 10, 2018] The cartoon refers the US decision to stop providing funding to UNRWA (UN Relief and Works Agency for Palestine Refugees in the Near East).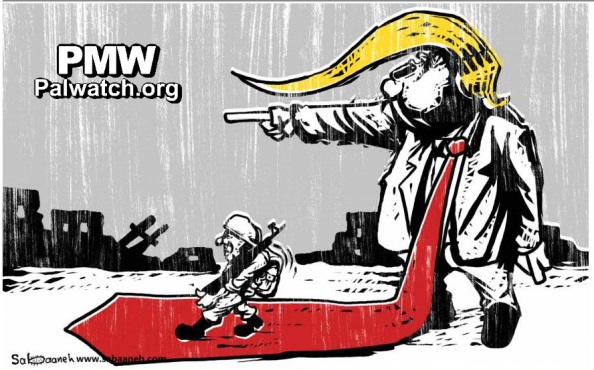 In another cartoon, Trump's tie serves as a red carpet for an Israeli soldier whom Trump urges to go forward. In the background are the ruins of buildings. [Official PA daily Al-Hayat Al-Jadida, Sept. 30, 2018]






Since Trump recognized Jerusalem as Israel's capital and moved the US embassy to Jerusalem,
Palestinian Media Watch
has documented the PA hatred for the United States expressed in numerous Palestinian
Trump-mocking and anti-US cartoons
and
statements
.

On the anniversary of the 9/11 terror attack, the
PA daily mocked Trump
in a cartoon that showed him flying into a building shaped as the PA's map of "Palestine," which includes all of Israel and the PA areas.

Expressing the Palestinian anger over Trump's recognition of Jerusalem, the PA daily around Christmas time showed
Trump as Santa Claus handing Muslim and Christian holy sites to Israel
.

Fatah has also mocked Trump. When the US embassy opened in Jerusalem as part of the American recognition of Jerusalem as Israel's capital, Fatah in an animated video showed
Trump drowning and Israel coming to an end
.

Palestinian hatred of the US did not develop as a response to Trump's policies and is not new. See for example PMW's report presented in the US Foreign Affairs Committee in April 2008 entitled
Strengthening America's Enemies
: The ideological allies of a future Palestinian state, which shows that the PA already then had allied with all of America's enemies precisely because they were America's enemies. PMW wrote at the time:


"This report reveals that the Palestinian Authority-Fatah government of Mahmoud Abbas is allied with many states who see themselves as enemies of the US and whom the US sees as threatening US security and world peace. Significantly, the affinity that is felt for such geographically distant non-Muslim countries, such as North Korea, Cuba, and Chavez's Venezuela is precisely because these states publicly challenge and express loathing for the US... PA- Fatah heroes are master terrorists such as Imad Mughniyeh, killer of 241 American soldiers in Lebanon, and the attacks of Sept. 11, 2001 are celebrated almost every annual anniversary with a political cartoon in the official PA daily."