Official PA TV newsreader reports on rally in Hebron in which posters glorify terrorist murderer as "Heroic Martyr"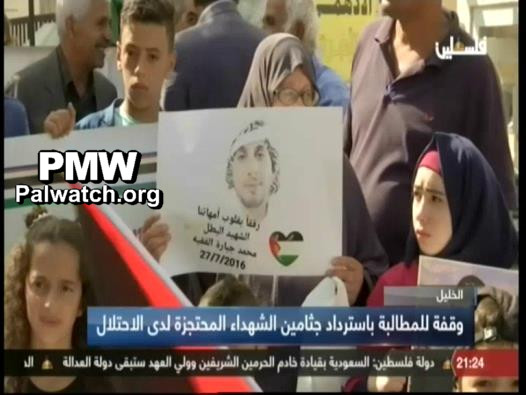 Official PA TV News on a protest rally in Hebron demanding that Israel return bodies of dead terrorists

Official PA TV newsreader: "The Supreme National Committee to Return the Bodies of the Martyrs (Shahids) (apparently refers to National Campaign to Return the Bodies of the Martyrs –Ed.) organized a rally at the Ibn Rushd Square in the center of Hebron to demand that the legal international organizations exert pressure on Israel to release their bodies."

Visual:
Caption on screen: "Rally demanding the return of the Martyrs' bodies that are being held by the occupation"

A young girl and a woman are seen holding identical posters featuring a picture of terrorist Muhammad Al-Faqih, who murdered Rabbi Michael Mark together with an accomplice. Al-Faqih is seen with a keffiyeh (Arab headdress) on his head, and on the lower right side of the poster is a heart in the colors of the Palestinian flag.

Text on poster: "Have mercy on the hearts of our mothers
Heroic Martyr Muhammad Jabarah Al-Faqih July 22, 2016"

Next to the young girl holding the poster of Al-Faqih is a poster showing terrorist Wael Al-Ja'abari, who attempted to stab Israeli soldiers.

Muhammad Al-Faqih - 29-year-old Hamas terrorist who had previously been imprisoned for planning terror attacks when affiliated with the Islamic Jihad, and Muhammad Amira, terrorist and a member of the PA police force, murdered Rabbi Michael Mark, a 48-year-old father of ten, in a shooting attack on July 1, 2016 on Route 60 in the southern Har Hebron region. Al-Faqih opened fire on the Mark family's car causing the vehicle to overturn and crash. Amira was driving the car from which Al-Faqih shot at them. Rabbi Mark's wife Chava, 40, was also seriously wounded in the attack, and two of their children were injured – their daughter Tehila, 15, and their son Pedayah, 16. Al-Faqih and Amira fled the scene, but were located by the Israeli army on July 27, 2016. Al-Faqih resisted arrest and shot at the soldiers from his home where he had barricaded himself. Al-Faqih was killed when the Israeli soldiers shot an anti-tank missile and other artillery at his house. Amira was arrested.

Wael Al-Ja'abari – 28-year-old Palestinian terrorist who attempted to stab Israeli soldiers in Hebron on Sept. 3, 2018. Al-Ja'abari was shot and killed by the soldiers.