PLO and Fatah officials honor terrorist murderer "during a tribute ceremony for his release"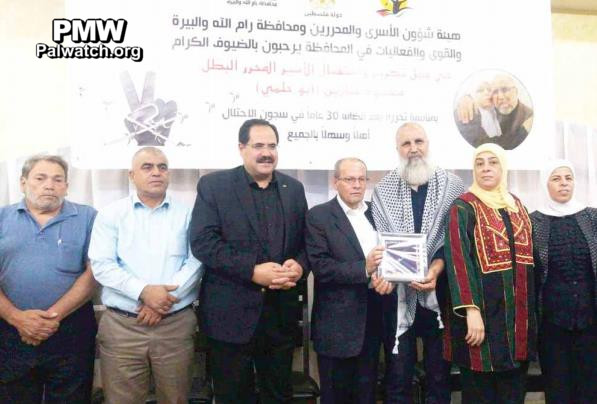 Headline: "Ramallah: Honoring released prisoner Mahmoud Jabarin"

"Director of [PLO] Commission of Prisoners' Affairs Qadri Abu Bakr and Ramallah and El-Bireh District Governor [Laila Ghannam]… honored heroic released prisoner Mahmoud Jabarin 'Abu Hilmi' (i.e., Israeli Arab who murdered a Palestinian he suspected of collaborating with Israel). This was during a tribute ceremony for his release, after he was in the occupation's prison for 30 years.
At the tribute ceremony and reception… Fatah Movement Central Committee members Muhammad Al-Madani, Sabri Saidam, and Dalal Salameh were present… and also a delegation of residents from the occupied Interior (i.e., Palestinian term for Israel)…
Abu Bakr congratulated fighter Mahmoud Jabarin for his resolve against the jailer and for his decisive and extraordinary role in supporting Palestine, for which it is fitting to do much. He emphasized that the Martyrs and prisoners are a red line…
Abu Bakr explained that all of the Israeli plots and steps – and behind them the American ones – will shatter on the rock of the resolve of our sons in the occupation's detention camps, like Jabarin's resolve. He added that the Commission of Prisoners' Affairs will continue to be at the service of the male and female prisoners until their release, and until the establishment of the Palestinian state whose capital is Jerusalem."

Muhammad Al-Madani also serves as Chairman of the Committee for Interaction with Israeli Society.

Sabri Saidam also holds the following positions: PA Minister of Education and Higher Education, Fatah Central Committee Deputy Secretary, Fatah Revolutionary Council Deputy Secretary, and PA Chairman Mahmoud Abbas' advisor for communications and information technology

Dalal Salameh also serves as Fatah Commissioner of NGOs.