Map in office of PA Ambassador to Saudi Arabia depicts "Palestine" as replacing all of Israel, seen in photo of Ambassador with PA official Rajoub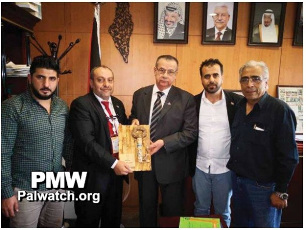 Headline: "A delegation of the Palestine Olympic Committee concluded its participation in the course in organization and administration in Saudi Arabia"

"The [Palestine] Olympic Committee delegation conveyed to Palestinian [PA] Ambassador in Saudi Arabia Bassem Al-Agha the greetings of Chairman of the [Palestine] Olympic Committee [and Fatah Central Committee Secretary] Jibril Rajoub, and honored him with a plaque of appreciation."

The picture accompanying the article shows the delegation presenting the plaque – showing a key symbolizing the right of return of the Palestinian refugees – to PA Ambassador in Saudi Arabia Bassem Al-Agha. On the wall of the ambassador's office in the background is the PA map of "Palestine" that presents all of Israel as "Palestine" together with the PA areas.

Jibril Rajoub also holds the following roles: Head of the PLO Supreme Council for Sport and Youth Affairs, Chairman of the Palestinian Football Association, and Chairman of the Palestinian Scout Association (PSA).