PA TV shows Russian kicking Jew during 1903 Kishinev pogrom, asks rhetorically: "Did the Balfour Promise come as a surprise 100 years ago?" - indicating that Europe wanted to get rid of the Jews
Official PA TV, filler on the Balfour Declaration

Official PA TV narrator: "Did the Balfour Promise (i.e., Declaration) come as a surprise 100 years ago? During his campaign to the east, Napoleon [Bonaparte] called to the Jews of the world to settle in Palestine. [German Emperor] Wilhelm II afterwards discussed settling the Jews in Palestine with his friend Ottoman Sultan Abdul Hamid II."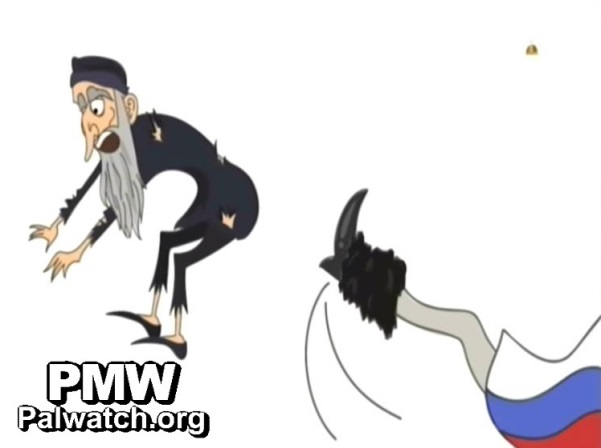 Visual: A drawing is shown of a Russian leader and the year 1903, the year of the Kishinev pogrom. Afterwards a picture is shown of a Jew, characterized by his large nose and long beard, being kicked by a Russian, characterized by a Russian flag.

Narrator: "A state to the Jews, in a place where there is not a Jewish majority. In other words, humiliation of the Arabs, expulsion of the Palestinians, and the oppression of those of them who remained."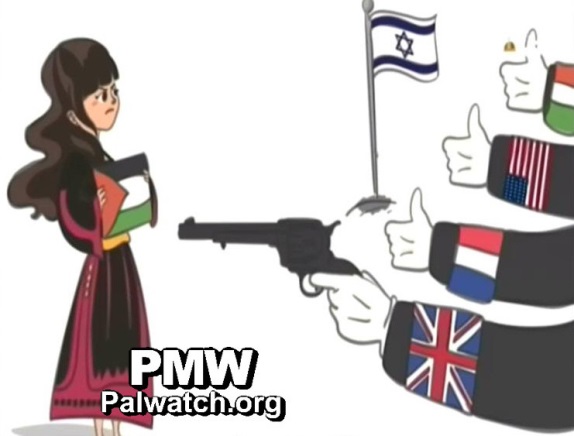 Visual: A picture is shown of a woman holding a Palestinian flag facing four extended arms, with the flags of Italy, the US, France, and Britain. The arm with the British flag points a gun at the woman. In the background, on the side of the extended arms, an Israeli flag is planted in the ground.
Click to view bulletin

The Balfour Declaration of Nov. 2, 1917 was a letter from British Foreign Secretary Arthur Balfour to Baron Rothschild stating that "His Majesty's government views with favour the establishment in Palestine of a national home for the Jewish people." In 1922, the League of Nations adopted this and made the British Mandate "responsible for putting into effect the declaration," which led to the UN vote in 1947 and the establishment of the State of Israel.


» View analysis citing this item