The great Palestinian dream: To liberate "Palestine" from the River to the Sea
Itamar Marcus and Nan Jacques Zilberdik
|
The great Palestinian dream: To liberate "Palestine"

from the Jordan River to the Mediterranean Sea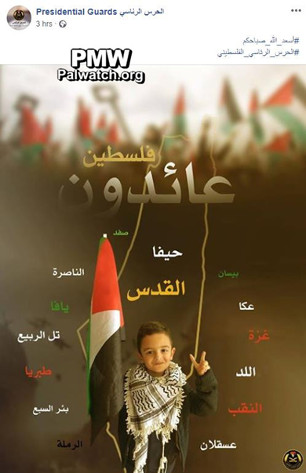 [Official Facebook page of the PA Presidential Guards]


by Itamar Marcus and Nan Jacques Zilberdik


Palestinian children are still being taught that "Palestine" includes all of Israel.
Decades after the Oslo Accords
, the PA and Fatah still don't recognize Israel's existence.


The photo above is a prime example of this. The Palestinian Authority Presidential Guards posted this image of a young boy making the "V" symbol for "victory" while holding a Palestinian flag. Behind him is the PA map clearly named "Palestine" that includes all of Israel and the PA areas.

The names of the following Israeli cities and regions are written in the colors of the Palestinian flag on and around the map: "Haifa," "Jerusalem," "Safed," "Nazareth," "Jaffa," "Tal Al-Rabia (i.e., Tel Aviv, see note below)," "Tiberias," "Be'er Sheva," "Ramle," "Ashkelon," "the Negev," "Lod," "Acre," and "Beit Shean." "Gaza" is also marked. The text on the image, states that Palestinians will "return":


Posted text: "#Good_morning #The_Palestinian_Presidential_Guards"

Text on image: "Palestine We will surely return"

[Official Facebook page of the PA Presidential Guards, Nov. 25, 2018]


Another Palestinian way of saying that all of the State of Israel is "Palestine" is to describe it as stretching "from the Jordan River to the Mediterranean Sea." This is one of
the PA's popular slogans
. Recently it was repeated by a university lecturer who described the "great Palestinian dream":
Rector of Al-Istiqlal University in Jericho (The Palestinian Academy for Security Sciences) Saleh Abu Osba: "I always say that life without dreams is empty. As I see it, we the Palestinians have a great dream before us: To liberate Palestine from the [Jordan] River to the [Mediterranean] Sea. This dream will remain before us and requires of us willpower. Our people's willpower is strong. The proof of this is the thousands of prisoners and the thousands of Martyrs who have fallen to realize the dream of liberating Palestine."

[Official PA radio station The Voice of Palestine, Sept. 13, 2018]


Palestinian Media Watch
has documented endless examples of PA and Fatah
denying Israel's existence
or right to exist in any borders. Recently, this was taught to children on official PA TV. A girl recited a poem stating that "a Zionist stole the land of Palestine." Upon hearing this and the rest of the poem, which encouraged Palestinians to "rebel" and "shoot" to be "victorious," the PA TV children's host responded:


"We are returning. Soon, Allah willing, we will return to our land..."

[Official PA TV, The Best Home, Nov. 1, 2018]