Fatah Facebook posts text glorifies Fatah terror attacks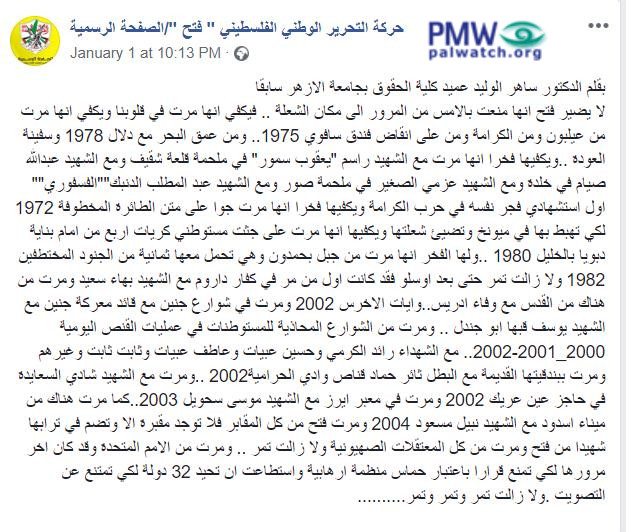 Text posted on the official Fatah Facebook page
Posted text:
"From the pen of Dr. Saher Al-Walid, former dean of legal studies at Al-Azhar University [in Gaza]
It does not harm Fatah that it was prevented yesterday [Dec. 31, 2018] from being at the site of the torch lighting (refers to Fatah activists in Gaza being blocked from a ceremony to mark Fatah's 65th anniversary by Hamas –Ed.) – for it is enough for Fatah that it was in the hearts, and it was at Eilabun (i.e., the attempted bombing of Israel's National Water Carrier), and at Karameh (see note below –Ed.), and on the ruins of the Savoy Hotel in 1975 (i.e., terror attack, 11 murdered), and from the depths of the sea with Dalal [Mughrabi] (i.e., terrorist who led murder of 37, 12 of them children) in 1978 and the ship of return. Fatah has enough pride… And it has enough pride in being in the air on the hijacked airplane in 1972 (apparently refers to hijacking of Sabena flight 571; see note below –Ed.)… and it is enough for it that it was above the bodies of the Kiryat Arba settlers in front of Beit Daboya in Hebron in 1980 (i.e., Beit Hadassah terror attack, 6 murdered), and it has honor from being at Mount Bhamadoun with the 8 captured [Israeli] soldiers in 1982 (see note below –Ed.), and it continues to be [in other places], even after [the 1993] Oslo [Accords] – Fatah was the first to be at Kfar Darom with Martyr Baha Sa'id (i.e., terrorist, murdered 2), and it was also in Jerusalem with Wafa Idris (i.e., suicide bomber, murdered 1 and wounded over 100) and with Ayyat Al-Akhras (i.e., suicide bomber, murdered 2) in 2002… and it was on the roads around the settlements with the daily sniper operations from 2000-2002, with Martyrs Raed Al-Karmi (i.e., terrorist, responsible for murder of 9), Hussein Abayat (i.e., terrorist, involved in numerous shooting attacks), Thabet Thabet (i.e., terrorist involved in numerous shooting attacks), and others. Fatah was with the old rifle of hero Thaer Hammad (i.e., terrorist, murdered 10), the sniper of Wadi Al-Haramiya in 2002… Fatah was in all of the cemeteries; there is no cemetery in whose dirt a Martyr from among the Fatah members is not buried… and Fatah is still [in more places]."
Bombing of Israel's National Water Carrier
- On Jan. 1, 1965, Palestinian terrorists attempted to bomb Israel's National Water Carrier. This was the first attack against Israel carried out by Fatah. Fatah refers to the attack as the "Intilaqa", meaning "the Launch" of Fatah.

The Karameh battle, or Al-Karameh - On March 21, 1968, Israeli army forces attacked the town of Karameh in Jordan, where Fatah terrorists had been launching attacks on Israel. Although Israel prevailed militarily, Arafat used the event for propaganda purposes, declaring the battle a great victory that erased the disgrace of the 1967 Six Day War defeat.

Savoy terror attack: In March 1975, eight terrorists traveled by boat from Lebanon to a Tel Aviv beach. They took over the Savoy Hotel and took guests as hostages. The next morning, while Israeli forces tried to free the hostages, the terrorists murdered 8 hostages and 3 soldiers. Seven of the terrorists were killed.

Dalal Mughrabi - female terrorist who led the most lethal terror attack in Israel's history, known as the Coastal Road massacre, in 1978, when she and other Fatah terrorists hijacked a bus on Israel's Coastal Highway, murdering 37 civilians, 12 of them children, and wounding over 70.

Theresa Halsa – 17-year-old Israeli Arab terrorist and a member of the Black September terrorist organization, a secret branch of Fatah, who participated in the hijacking of Sabena flight 571 from Vienna to Tel Aviv in May 1972. When the plane landed in Israel, the terrorists demanded the release of 315 Palestinian terrorists from Israeli prisons. Israel mounted a rescue operation led by Ehud Barak (who later served as Israeli Prime Minister), in which current Israeli Prime Minister Benjamin Netanyahu participated. During the rescue the two male hijackers, Ali Taha Abu Snina and Abed Al-Aziz Atrash, were killed, and one passenger, 22-year-old Miriam Anderson, was also killed accidentally. The two female hijackers, Rima Tannous and Theresa Halsa, were captured and sentenced to life imprisonment – Halsa for 220 years. They were released in November 1983 in a prisoner exchange.

Beit Hadassah (Daboya) terror attack – Terror attack in which 6 Israeli young men were murdered: Tzvi Glatt, Eli HaZe'ev, Shmuel Marmelstein, Hanan Krauthhammer, Gershon Klein and Ya'akov Zimmerman, and 20 were wounded on May 2, 1980, in Hebron, near Beit Hadassah - the only building in Hebron in which Jews lived at the time. The Palestinian terrorists who committed the attack were Adnan Jaber, Yasser Ziyadat, Tayseer Mahmoud Taha Abu Sneineh, and Muhammad Abd Al-Rahman Saleh Al-Shubaki.

The capture of 8 Israeli soldiers in Lebanon – On Sept. 4, 1982, 8 Israeli soldiers were captured by Fatah terrorists in Bhamadoun, Lebanon. Two of them were handed to the Popular Front for the Liberation of Palestine (PFLP) and 6 were held by Fatah. Fatah released the 6 soldiers on Nov. 23, 1983 as part of an exchange deal in which Israel released 4,700 terrorists that were held in Lebanon and 65 terrorists held in Israel. The two handed over to the PFLP were released on May 21, 1985, as part of an exchange deal in which Israel released 1,150 terrorist prisoners.

Baha Sa'id – was a terrorist active in the Popular Resistance Committees and a member of the Preventive Security Forces. On Nov. 18, 2000, he infiltrated the community of Kfar Darom in the Gaza Strip, and murdered 2 Israeli soldiers, Snir Flum and Sharon Shitoubi. Shitoubi shot the terrorist, who later died of his wounds.

Wafa Idris – The first Palestinian female suicide bomber. Belonging to Fatah, she carried out a suicide attack on Jaffa Road in central Jerusalem on Jan. 27, 2002, murdering 1 and wounding over 100. As a volunteer for the Palestinian Red Crescent she was able to bypass Israeli security and enter Jerusalem in a Palestinian ambulance.

Ayyat Al-Akhras - The youngest female Palestinian suicide bomber (aged 17). A member of Fatah, Al-Akhras carried out a suicide bombing attack near a Jerusalem supermarket on March 29, 2002, murdering 2 and wounding 28.

Raed Al-Karmi – Palestinian terrorist and senior Tanzim (Fatah terror faction) member responsible for the murder of 9 Israelis in several attacks: Etgar Zeituni and Motti Dayan on Jan. 23, 2001; Zvi Shelef on May 31, 2001; Danny Yehuda on June 18, 2001; Elie Na'aman on July 4, 2001; Dov Roseman on Aug. 26, 2001; soldier Yaniv Levy on Aug. 28, 2001; Israeli army officer Erez Merhavi on Sept. 6, 2001; and Hananya Ben Avraham on Oct. 5, 2001. Al-Karmi was killed by the Israeli army on Jan. 14, 2002.

Hussein Abayat - Commander of the Al-Aqsa Martyrs' Brigades in the West Bank. He was involved in shooting attacks against Israeli civilians and military in the Bethlehem area, including the murder of Sgt. Max Hazan and the injuring of border policeman Shimon Ohana. Abayat was killed in November 2000 when he was hit by a rocket fired by an IDF helicopter.

Thabet Thabet - one of the founders of Tanzim (Fatah terror faction) in Tulkarem. Thabet was responsible for many shooting attacks against Israelis at the start of the 2000-2005 PA terror campaign (the second Intifada). Thabet was killed by the Israeli army on Dec. 31, 2000.

Thaer Hammad – Palestinian terrorist serving 11 life sentences for murdering 3 Israeli civilians and 7 soldiers by shooting them with a sniper rifle from a hilltop in Wadi Al-Haramiya between Ramallah and Nablus on March 3, 2002.