Fatah branch glorifies terrorist as "heroic commander… who took a rifle and followed the path of the heroes"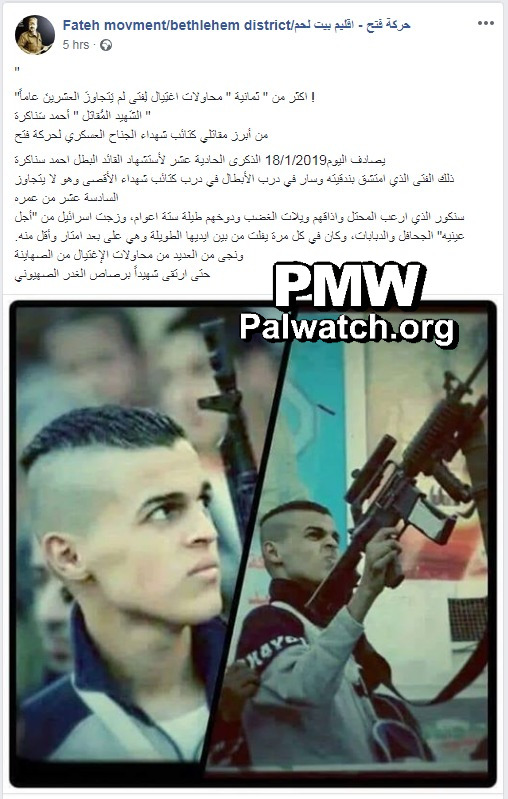 Text and image posted on the Facebook page of the Fatah Movement – Bethlehem Branch
The image contains two pictures showing terrorist Ahmed Sanaqrah – who led a terror cell that planned to carry out attacks in Israel – with an assault rifle.
Posted text:
"More than eight attempts to eliminate a young man less than 20 years old!
Martyr (
Shahid
) fighter Ahmed Sanaqrah (i.e., terrorist, led terror cell)
One of the most prominent fighters of the [Al-Aqsa] Martyrs' Brigades, the Fatah Movement's military wing
Today, January 18 [2019], is the 11th anniversary of the death as a Martyr of heroic commander Ahmed Sanaqrah. This young man – who took a rifle and followed the path of the heroes, the path of the Al-Aqsa Martyrs' Brigades – was not yet 16 years old.
Sanaqrah frightened the occupier, fed it bitterness, and rattled it for six years. Israel sent huge forces and tanks after him, and every time he evaded its long arms despite them being just meters away from him.
He evaded many assassination attempts by the Zionists until he was shot by the Zionist traitor and ascended [to Heaven]."
Ahmed Sanaqrah – Palestinian terrorist and senior member of the Al-Aqsa Martyrs' Brigades (Fatah's military wing) who was shot and killed on Jan. 18, 2008, when he tried to escape arrest. Sanaqrah was an expert on explosive belts and led a terror cell that planned to carry out terror attacks in Israel.