Fatah Facebook glorifies terror leader as "heroic commander"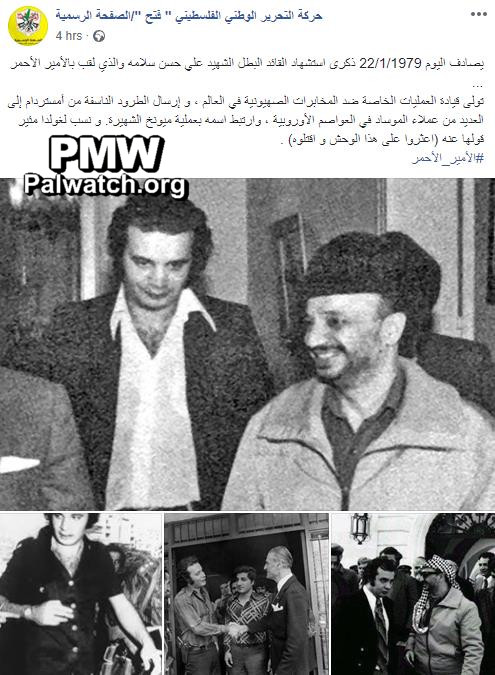 Text and pictures posted on the official Fatah Facebook page
The pictures show terrorist Ali Hassan Salameh, commander of the Europe operations of Fatah's Black September terrorist organization in the 1970s. He is with former PLO and PA Chairman Yasser Arafat in the top and bottom right pictures.
Posted text:
"Today, Jan. 22 [2019], is the anniversary of the death as a Martyr (Shahid) of heroic commander Martyr Ali Hassan Salameh (i.e., commander of the Black September terrorist organization's European operations), who was called 'the Red Prince.'
He oversaw the special operations (i.e., terror attacks) against the Zionist intelligence worldwide, and sent explosive packages from Amsterdam to many Mossad (Israeli Secret Intelligence Service) agents in European capitals. His name is connected to the famous Munich operation (i.e., the Munich Olympics massacre, 11 murdered). [Former Israeli Prime Minister] Golda Meir had this saying attributed to her: 'Find this monster and kill it' (PMW could find no record of Golda Meir having said this –Ed.).
#The_Red_Prince"
Ali Hassan Salameh
- Palestinian terrorist and commander of operations in Europe of the Black September terror organization - a secret branch of Fatah - in the 1970s. He planned many terror attacks, including the attack on the Israeli team at the Munich Olympics in 1972, in which 11 Israeli athletes were murdered. Salameh was killed by a car bomb in Beirut on Jan. 22, 1979. Israel is thought to be responsible for his death, but has not officially taken responsibility for it.

Yasser Arafat – Founder of Fatah, former chairman of the PA and the PLO. During the 1960s, 70s and 80s Arafat was behind numerous terror attacks against Israelis. Although he received the Nobel Peace Prize in 1994 together with then Israeli Prime Minister Yitzhak Rabin and then Israeli Minister of Foreign Affairs Shimon Peres "for their efforts to create peace in the Middle East" after signing the Oslo Accords peace agreement, Arafat launched a 5-year terror campaign - the second Intifada (2000-2005) – in which more than 1,000 Israelis were murdered. Arafat died of an illness in 2004.

The Munich Olympics massacre - a terrorist attack perpetrated by the Palestinian terror organization Black September, a secret branch of Fatah, during the 1972 Summer Olympics in Munich, in which they murdered 11 members of the Israeli Olympic team.