Championship in Gaza named after terrorist leaders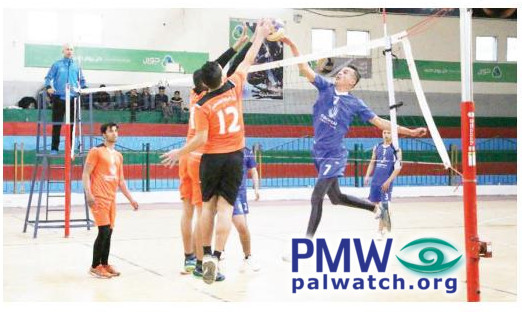 Headline: "Martyrs Salah Khalaf and Said Siam Boys Volleyball Championship"
"The Al-Sadaqa team took a fitting and important victory of 3-0 over its opponent Khidmat Jabaliya in the framework of the Martyrs (Shahids) Salah Khalaf (i.e., head of Black September terror organization) and Said Siam Boys Volleyball Championship, while the Beit Hanoun Sports [Club] trumped Al-Ribat with the same score. This was in the framework of the second round of games that was held yesterday, Thursday [Jan. 24, 2019] at the Martyr Saad Sayel (i.e., Fatah terrorist commander) Hall west of the city of Gaza, under the auspices of the Amwaj [sports] institute and with funding of the European Charity association (i.e., an independent Turkish charitable fund)."
Abu Iyad (Salah Khalaf) - PLO Chairman Yasser Arafat's deputy, one of the founders of Fatah, and head of the terror organization Black September, a secret branch of Fatah. Attacks he planned include the murder of 11 Israeli athletes at the Munich Olympics (Sept. 5, 1972) and the murder of two American diplomats in Sudan (March 1, 1973). It is commonly assumed that his assassin, a former Fatah bodyguard, was sent by the Abu Nidal Organization, a rival Palestinian faction.

Said Siam, former Hamas Minister of Interior in PA government, killed during the 2008-2009 Gaza War.

Saad Sayel - Senior Fatah commander who led the PLO terrorist forces based in Lebanon during the early 1980s. Sayel was assassinated in Lebanon on Sept. 27, 1982, by unknown assailants.