Fatah glorifies history of terror attacks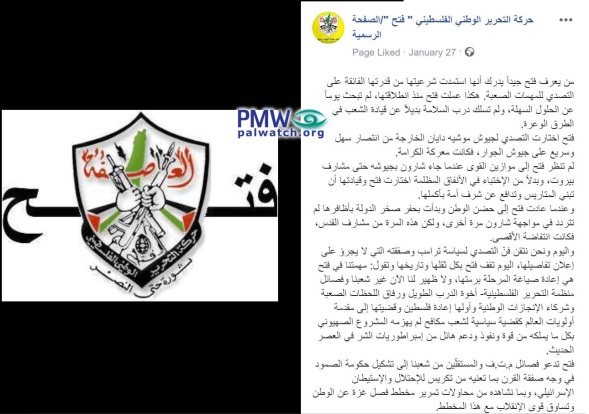 Image and text posted on the official Fatah Facebook page
The image shows the Fatah logo that includes a grenade, crossed rifles, and the PA map of "Palestine" that presents all of Israel as "Palestine" together with the PA areas. Behind the logo is the word "Fatah."
Posted text:
"Whoever knows Fatah well knows that it has drawn its legitimacy from its supreme ability to face difficult missions. This is how Fatah has operated since its Launch ("
Intilaqa
," refers to Fatah's first attempted terror attack against Israel; see note below –Ed.); it did not search for easy solutions.
Fatah chose to go out against the armies of [former Israeli Chief of Staff] Moshe Dayan, which had come from an easy and quick victory over the neighboring armies, and thus was the Karameh Battle (see note below –Ed.).
Fatah paid no attention to the balance of power when [former Israeli Chief of Staff Ariel] Sharon came with his armies up to the edges of Beirut, and instead of hiding in dark tunnels, Fatah and the leadership chose to build barricades and defend the nation's honor.
And when Fatah returned to the lap of the homeland and began to carve out the state with its fingernails, it did not hesitate to deal with Sharon again, but this time on the edges of Jerusalem – and then there was the Al-Aqsa Intifada (i.e., PA terror campaign 2000-2005).
And today, when we are already experts in the art of resisting [US President Donald] Trump's policy… Fatah stands with its full weight and history and says: 'Our mission in Fatah is to reshape the stage in its entirety, and all of our support is our people and the PLO factions… our partners in the national accomplishments, the first of which is returning Palestine and its cause to the top of the world's priorities, as the cause of a people that struggles and is undefeated by the Zionist project with all of its strength and influence, and the great support it has from the empires of evil in the new period.
Fatah calls on the PLO factions and independents in our people to establish the [PA] government of resolve against 'the deal of the century' (refers to Trump's as yet unpublished Middle East peace plan –Ed.)…
Fatah is working to reconsolidate the means of struggle, but our goal has not changed: ending the occupation, realizing the [Palestinian refugees'] right of return, and establishing our independent Palestinian state with full sovereignty and occupied Jerusalem is its capital.
Munir Al-Jaghoub
Head of the Information Office
Fatah Mobilization and Organization Commission
Jan. 27, 2019"
Intilaqa
- "the Launch" refers to the beginning of Fatah on Jan. 1, 1965, when it carried out its first terror attack against Israel, attempting to blow up Israel's National Water Carrier.

The Karameh battle, or Al-Karameh - On March 21, 1968, Israeli army forces attacked the town of Karameh in Jordan, where Fatah terrorists had been launching attacks on Israel. Although Israel prevailed militarily, Arafat used the event for propaganda purposes, declaring the battle a great victory that erased the disgrace of the 1967 Six Day War defeat.