Fatah glorifies terrorist who injured 3 Israeli soldiers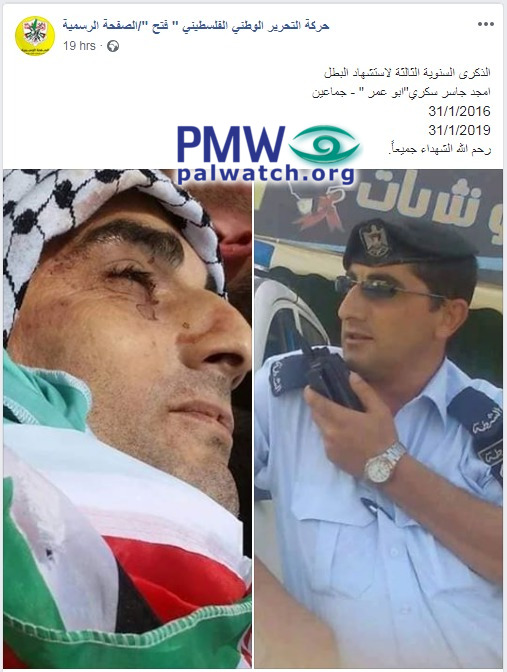 Images and text posted on the official Fatah Facebook page
Posted text:
"The third anniversary of the death as a Martyr (
Shahid
) of hero Amjad Jasser Al-Sukkari 'Abu Amar' (i.e., terrorist, wounded 3) – Jamma'in (i.e., southwest of Nablus)
Jan. 31, 2016
Jan. 31, 2019
May Allah have mercy on all of the Martyrs"
The image on the left shows dead terrorist Amjad Al-Sukkari at his funeral, with a keffiyeh (Arab headdress) on his head and a Palestinian flag draped around him.
The image on the right shows Al-Sukkari in his PA Security Forces uniform talking into a two-way radio.Amjad Jasser Al-Sukkari – 34-year-old Palestinian terrorist and the personal security guard of the PA General Attorney. Al-Sukkari injured 3 Israeli soldiers in a shooting attack next to the Jewish town of Beit-El, adjacent to Ramallah, on Jan. 31, 2016. Al-Sukkari was shot and killed by Israeli soldiers.