Fatah Facebook glorifies terrorist and Martyrdom: "Martyrs are the magnificent ones; they are the crown's jewel; they are the ideal example of humanity"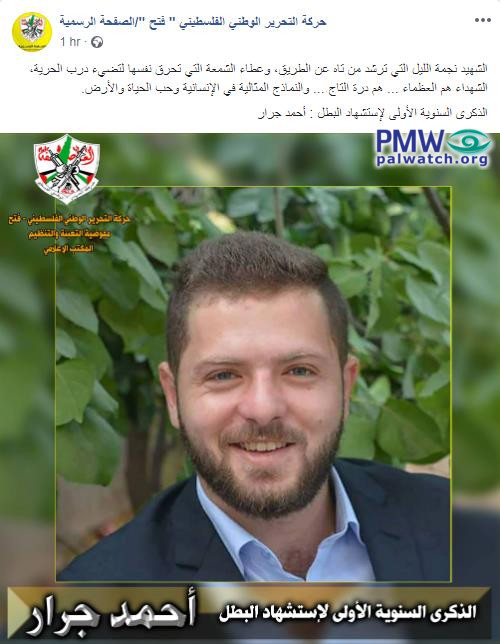 Image and text posted on the official Fatah Facebook page
The image shows terrorist Ahmed Nasr Jarrar, head of the terror cell responsible for the murder of Rabbi Raziel Shevach. In the upper left corner is the Fatah logo that includes a grenade, crossed rifles, and the PA map of "Palestine" that presents all of Israel as "Palestine" together with the PA areas.
Text under Fatah logo:
"The Palestinian National Liberation Movement – Fatah
Mobilization and Organization Commission
Information Office"
Text at bottom of image:
"The first anniversary of the death as a Martyr (
Shahid
) of heroic Ahmed Jarrar (i.e., terrorist, responsible for murder of 1)"
Posted text:
"The Martyr, the star of the night that guides those wandering on the path, and he is giving as the candle gives that burns itself in order to light the path to freedom. The Martyrs are the magnificent ones; they are the crown jewel; they are the ideal example of humanity, of the love of life and the land.
The first anniversary of the death as a Martyr of heroic Ahmed Jarrar"
Ahmed Nasr Jarrar – Palestinian terrorist who led the terror cell that murdered Rabbi Raziel Shevach in a drive-by shooting on Jan. 9, 2018, near Havat Gilad, in the Nablus area. Jarrar was shot and killed during an exchange of gunfire with Israeli soldiers while resisting arrest near Jenin on Feb. 6, 2018.