Fatah Facebook glorifies terrorists as "Martyrs"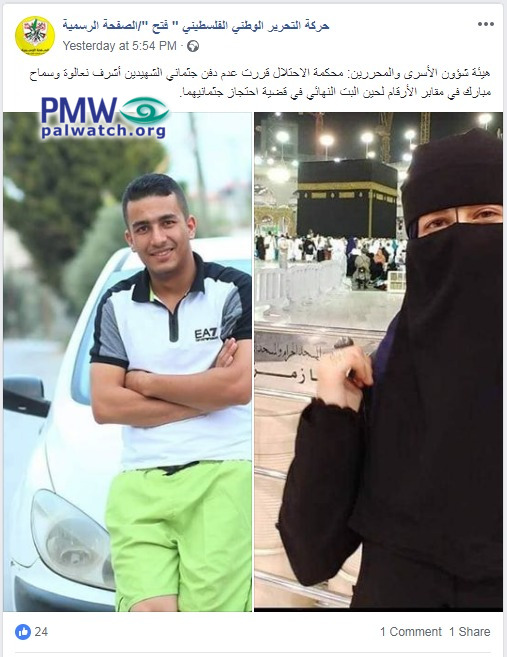 Images and text posted on the official Fatah Facebook page
Posted text:
"[PLO] Commission of Prisoners and Released Prisoners' Affairs: The occupation court has decided not to bury the bodies of Martyrs (Shahids) Ashraf Na'alwa (i.e., terrorist, murdered 2) and Samah Mubarak (i.e., terrorist, attempted to stab Israeli) in the numbered cemetery (i.e., Israeli cemeteries for temporary burial of terrorists) until the final ruling regarding their bodies being held."
The image on the left shows terrorist Ashraf Na'alwa, and the image on the right shows terrorist Samah Mubarak at the Kaaba in Mecca.
Ashraf Walid Suleiman Na'alwa
– 23-year-old Palestinian terrorist who shot and murdered 2 of his Israeli coworkers, Kim Levengrond-Yehezkel and Ziv Hajbi, in a factory in the Barkan Industrial Zone near Ariel on Oct. 7, 2018. Na'alwa fled the scene, but was located on Dec. 13, 2018 in Nablus and shot and killed in a shootout when the Israeli army and police tried to apprehend him. Israel ordered the partial demolition of the Na'alwa home as a result of Ashraf Na'alwa murdering 2; the house was partially demolished on Dec. 17, 2018.The Izz A-Din Al-Qassam Brigades (Hamas' military wing) claimed responsibility for the attack. Until this attack, the Barkan Industrial Zone had been an example of coexistence with Israelis and Palestinians working together.

Samah Mubarak – 16-year-old female Palestinian terrorist who attempted to stab a female Israeli border police officer at a checkpoint east of Jerusalem on Jan. 30, 2019. Mubarak was shot and killed by a civilian security guard during the attack.

Numbered cemeteries - The Cemeteries for Enemy Casualties (numbered cemeteries) are two burial sites maintained by the Israeli army for burying the bodies of enemy soldiers during wartime as well as terrorists. They are fenced and well-marked. Graves have markers instead of gravestones. Burial is temporary, as the bodies are eventually returned to their countries of origin. No ceremony is held. The bodies are buried in numbered caskets after their identities are documented.