Fatah Facebook posts letters from families of car-ramming terrorists: "We emphasize that our Martyr sons and all of our people's Martyrs are [a source of] pride to the nation – stars shining in the skies of Palestine"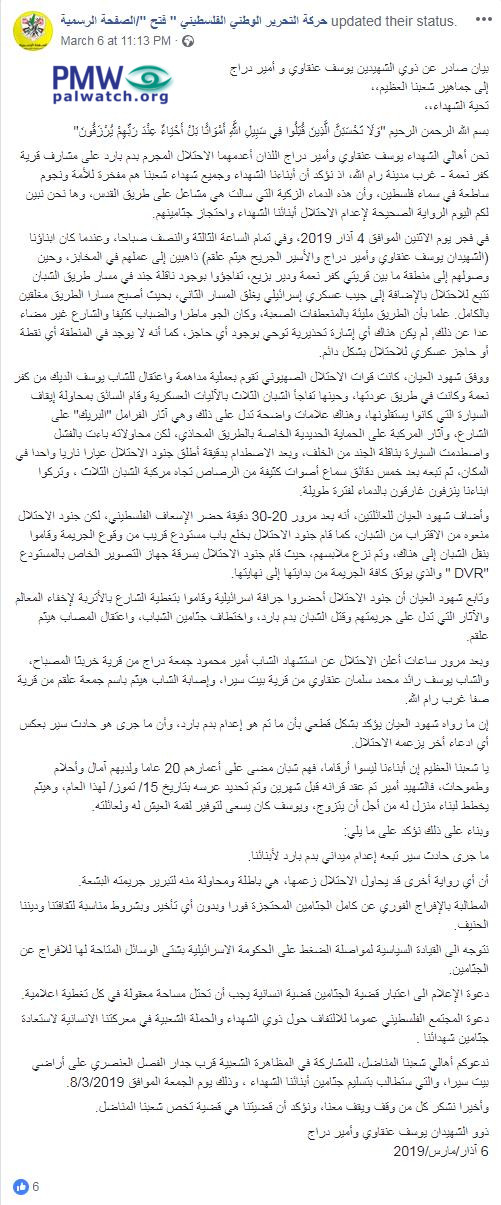 Text posted on the official Fatah Facebook page, excerpt of a letter from the families of terrorists Yusuf Anqawi and Amir Darraj, who committed a car ramming attack and wounded 2
Posted text:
"We emphasize that our Martyr (
Shahid
) sons and all of our people's Martyrs are [a source of] pride to the nation – stars shining in the skies of Palestine – and that this pure streaming blood is a torch on the path to Jerusalem. And here, we present you today with the true story of how the occupation executed our Martyr sons and is holding their bodies… What the eyewitnesses saw decisively confirms that what happened is execution in cold blood, and that what happened is a car accident – the opposite of every other claim that the occupation believes."

Yusuf Raed Anqawi and Amir Mahmoud Darraj – Palestinian terrorists who rammed their car into a group of Israeli soldiers, wounding 2, northwest of Ramallah on March 4, 2019. Anqawi and Darraj were shot and killed during the attack by soldiers. A third terrorist who was with them was arrested.