Abbas advisor praises Martyrdom and slain "Martyr" terrorists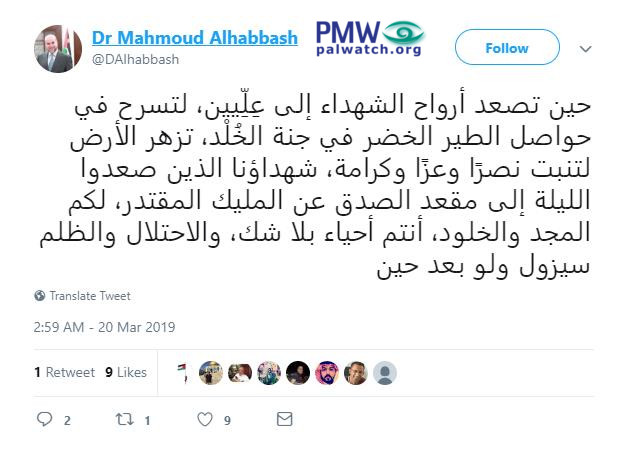 Text tweeted from the Twitter account of Supreme Shari'ah Judge, PA Chairman Mahmoud Abbas' advisor on Religious and Islamic Affairs, and Chairman of the Supreme Council for Shari'ah Justice Mahmoud Al-Habbash
Tweet:
"When the Martyrs' (Shahids') souls ascend to Paradise and dwell within the crop of green birds in the eternal gardens (apparently refers to Islamic tradition that Martyrs in Paradise reside in the bodies of green birds; see note below –Ed.), the land blooms and brings forth victory, glory, and honor. Our Martyrs who ascended tonight [the night of March 19, 2019] (apparently referring to terrorists Omar Abu Laila who murdered 2, and Zaid Nur and Raed Hamdan who threw explosives at Israeli soldiers in Nablus –Ed.) to the throne of truth by the side of the All-Powerful King [Allah] –glory and eternity is yours. You are undoubtedly living, while the occupation and the oppressor will come to their end, even if not at this moment."

The mention of "green birds" apparently refers to an Islamic teaching in the Hadith: "Narrated Ka'b bin Malik: From his father that the Messenger of Allah said: 'The souls of the martyrs are in green birds, suspended from the fruit of Paradise, or the trees of Paradise.'" [Jami'at-Tirmidhi 1641]

Omar Abu Laila – Palestinian terrorist who stabbed Israeli soldier Gal Keidan, stole his weapon, and shot and murdered him at Ariel Junction on March 17, 2019. Abu Laila then shot at passersby, murdering Rabbi Achiad Ettinger, and stole the car of a civilian who had fled the scene, which he drove to Gitai Avishar Junction, west of Ariel, where he shot and seriously wounded another Israeli. Abu Laila was shot and killed on March 19, 2019, during an exchange of gunfire with Israeli soldiers when they attempted to apprehend him.

Zaid Nur and Raed Hamdan – Palestinian terrorists who threw explosives at Israeli soldiers in Nablus on March 19, 2019. Nur and Hamdan were killed by the soldiers while attacking them.