Fatah Facebook branch promotes Martyrdom: "The most beautiful mother is the one that waits for her son as he returns as a Martyr"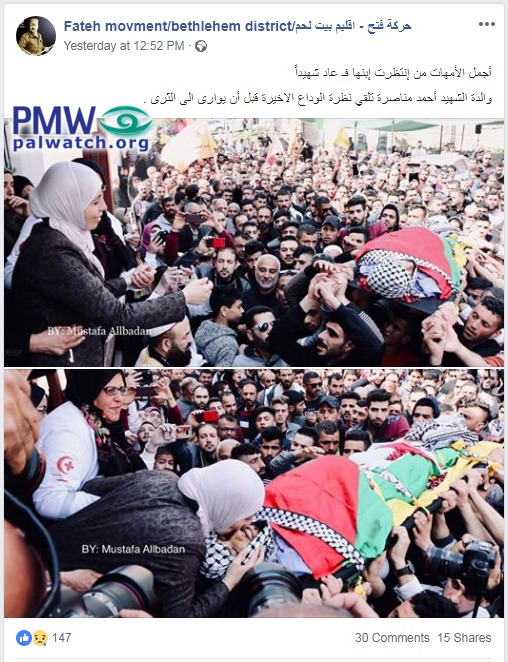 Images and text posted on the Facebook page of the Fatah Movement – Bethlehem Branch
Posted text:
"The most beautiful mother is the one that waits for her son as he returns as a Martyr (
Shahid
).
The mother of Martyr Ahmed Manasrah (i.e., Palestinian rioter who was shot by an Israeli soldier) gets a last farewell look before his burial."
The images show the mother of rioter Ahmed Manasrah kissing the face of her dead son during his funeral. Manasrah's body is wrapped in a Palestinian flag and a
keffiyeh
(Arab headdress), and a large crowd is participating in the funeral.
Ahmed Jamal Mahmoud Manasrah – 28-year-old Palestinian rioter who was shot and killed by an Israeli soldier after he threw rocks at passing cars near a military post by the entrance to Bethlehem on March 20, 2019. An Israeli army investigation found the soldier followed standard procedures in warning Manasrah to stop before opening fire; one other Palestinian was also shot and wounded by the soldier. The Israeli army announced it will continue to investigate the incident.