Fatah and PA cartoons link Eurovision music to violence
Nan Jacques Zilberdik and Maurice Hirsch
|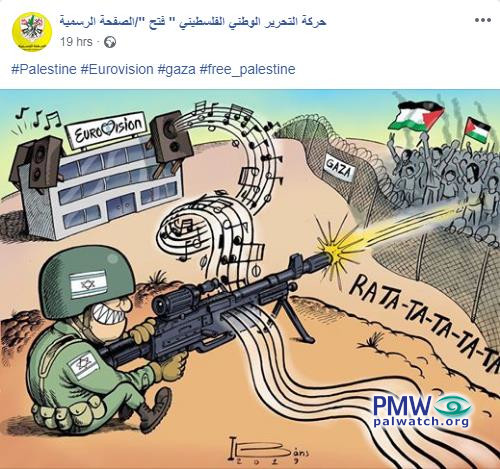 Last night The Netherlands won the Eurovision Song Contest 2019 in Tel Aviv. During the week leading up to the final, Fatah campaigned for the boycott of the Eurovision as documented by Palestinian Media Watch, but to no avail. Today, both Fatah and the Palestinian Authority daily published cartoons linking Israeli music to violence, including the visual depiction of the common PA libel that Israel intentionally kills civilians.
Fatah posted the cartoon above on Facebook, showing an Israeli soldier shooting at Palestinians in Gaza. Musical notes are flowing from the "Eurovision" but turn into an ammunition belt for the soldier's machine gun.
Posted text in English: "#Palestine #Eurovision #gaza #free_palestine"

Official Fatah Facebook page, May 19, 2019
In a second cartoon posted by Fatah, Israeli Prime Minister Benjamin Netanyahu is dressed up as Israeli singer Netta Barzilai who won last year's Eurovision and brought the competition to Israel. Netanyahu is holding a missile in each hand: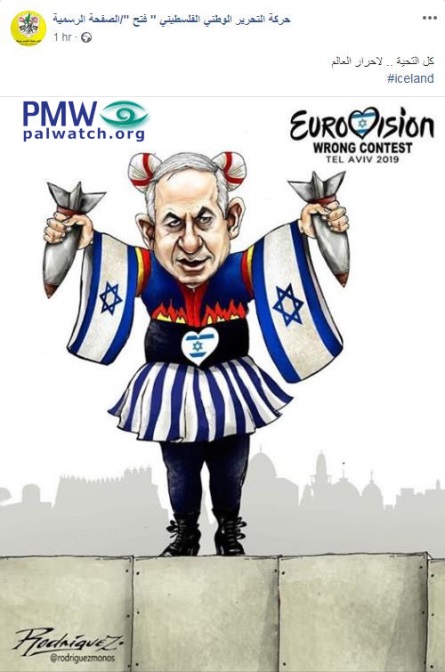 Posted text, part in Arabic and part in English:

"Our blessings to the world's liberals

#iceland"

Official Fatah Facebook page, May 19, 2019
The text refers to the fact that the Eurovision competitors from Iceland held a banner in the colors of the Palestinian flag with "Palestine" written on it.
The official PA daily reacted to the Eurovision being held in Israel with this cartoon, showing an Israeli soldier playing a saxophone with a bullet being fired from it at the ruins of a building. Text on cartoon in English: "Eurovision 2019":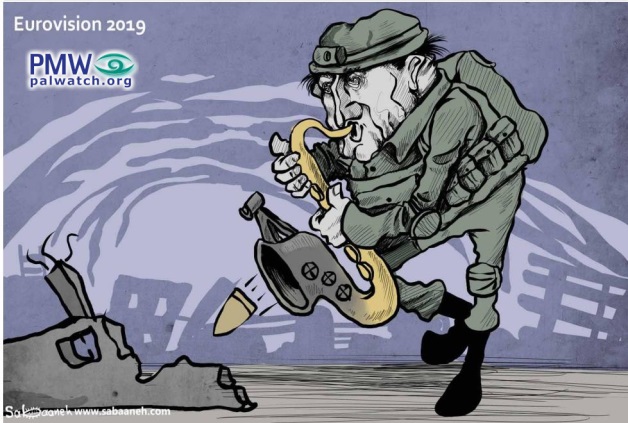 [Official PA daily Al-Hayat Al-Jadida, May 19, 2019]