Abbas Inaugurates 'Martyr Abu Jihad Faculty for Administration and Military Sciences' at Palestinian Authority University

Abbas Inaugurates 'Martyr Abu Jihad Faculty for Administration and Military Sciences' at Palestinian Authority University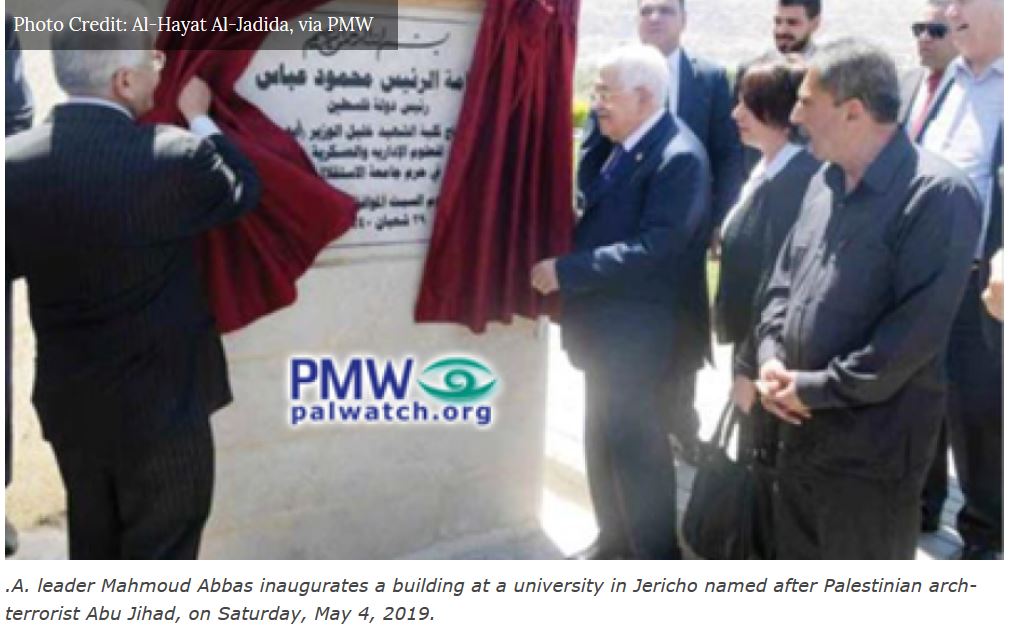 By Itamar Marcus and Nan Jacques Zilberdik
(JNS) Palestinian Authority leader Abbas earlier this month inaugurated the "Martyr Khalil Al-Wazir 'Abu Jihad' Faculty for Administration and Military Sciences" at the Al-Istiqlal University in Jericho, as part of the annual events marking the April 16 anniversary of Al-Wazir's death.
Al-Wazir was a founder of Fatah and deputy to Yasser Arafat. He headed the PLO terrorist organization's military wing and also planned many deadly terrorist attacks from the 1960s to the 1980s. These attacks, in which at least 125 Israelis were murdered, included the single most lethal terrorist attack in Israeli history—the hijacking of a bus and murder of 37 civilians, 12 of them children. He was assassinated at his home in Tunis by Israeli commandos on April 16, 1988.
Speaking at a festival at Al-Quds Open University to mark Palestinian Prisoner's Day and the anniversary of Al-Wazir's death, Fatah second in command Mahmoud Al-Aloul, who served under Al-Wazir in Lebanon, said it had been a "shock" when he died, and that he had "created hope," according to official P.A. daily Al-Hayat Al-Jadida. He added that the students should "should study the values of these leaders who led and died as martyrs."
As part of the events held to mark the anniversary of Al-Wazir's death, the P.A. National Security Forces hosted on April 16 the "Martyr Khalil Al-Wazir Abu Jihad Chess Tournament."
Also in April, as documented by the Israeli NGO Palestinian Media Watch, the P.A. Education Ministry inaugurated a wall painting of Abu Jihad at a school for boys named after the terrorist.
U.S. Special Representative for International Negotiations Jason Greenblatt responded to PMW's exposure of this terror glorification on Twitter, saying:
"Despicable glorification of violence and terrorism displayed at a Palestinian school w/ a painting of Abu Jihad (Khalil Al-Wazir). Palestinian students deserve to learn about respectable accomplishments of their community, not this."
In response to Greenblatt's criticism, the P.A. Foreign Ministry was quoted by Al-Hayat Al-Jadida as saying:
"Accusing the Palestinians of teaching 'terror' due to the hanging of a picture of martyr, commander and symbol Abu Jihad is ridiculous and expresses the extent of the American bias and its uselessness. It also again proves that the United States has adopted the occupation's positions that deny the Palestinian people's legal national rights that are anchored in the U.N. Charter, and primarily the right to self-definition and its legal and just struggle for freedom and independence, the national struggle of which Abu Jihad was one of its symbols."
Fatah, too, posted a response, in English on its official Facebook page, to Greenblatt's criticism, expressing "pride" in Abu Jihad, the "great leader":
"Our response: We advise Mr. Greenblatt to take care of the scandals that are chasing the reckless administration of his boss instead of putting his nose in the affairs of our Palestinian people. He must realize that the first interest of our people is to end the occupation and colonization of our homeland and to express our pride in the sacrifices of the fighters of our people and their great leaders such as the martyr Khalil al-Wazir (Abu Jihad)."
(https://www.jewishpress.com/news/eye-on-palestine/abbas-inaugurates-martyr-abu-jihad-faculty-for-administration-and-military-sciences-at-palestinian-university/2019/05/27/)