Palestinian education teaches kids to anticipate the end of Israel
Itamar Marcus and Nan Jacques Zilberdik
|
PA school teaches kids to anticipate the end of Israel and the "liberation of Palestine"
Teacher: "This is our vision, and we hope to liberate Palestine."

PA TV host: "A map [of Palestine] that we hope to achieve soon... I want to thank the school principal who is with us for this good effort to educate our male and female students"
A Palestinian teacher and her school's principal appeared on official PA TV, and the teacher openly expressed the school's educational methodology, teaching students about the anticipated end of Israel. An exhibition at the school featured a map of "Palestine," which included all of Israel and the PA areas, and displayed numerous small ripped Israeli flags and large whole Palestinian flags. The flags represent Israeli sovereignty being replaced by Palestinian sovereignty over all of Israel. To make sure there is no doubt about the meaning, the teacher stressed: "We hope to liberate Palestine." The PA TV host thanked the principal for this quality education of Palestinian children: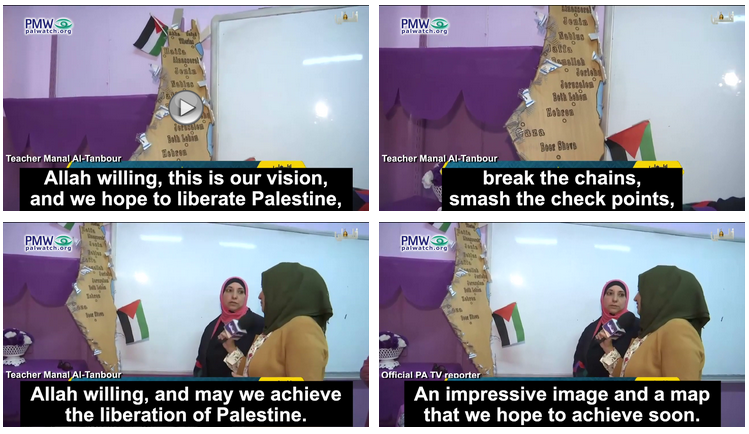 Teacher Manal Al-Tanbour: "Allah willing, this is our vision, and we hope to liberate Palestine, break the chains, smash the check points, tear down the separation wall like the Berlin Wall was torn down, Allah willing, and may we achieve the liberation of Palestine."

Official PA TV reporter: "An impressive image and a map that we hope to achieve soon. We wish for the liberation of... I want to thank you very much for this initiative. I want to thank the school principal who is with us for this good effort to educate our male and female students."

Official PA TV, Palestine This Morning, May 16, 2019
PMW has documented that the PA continuously promotes the message of one "Palestine" and no Israel. The PA transmits this message via its map of "Palestine" in which the PA includes the entire area of Israel. Such maps hang in PA ministries and offices, are featured on diplomas and honorary plaques that are frequently distributed, and are printed in PA school books. PMW found this map colored in the Palestinian flag in a school book for 7th grade:
Text: "Exercise (1): We will look at the following figure, draw conclusions...:
Components of the state:
1 - Geographical area..."

PA 7th Grade Social Studies Textbook, Part A, published August 2017