PA cartoon: Buying Israeli foods arms Israeli soldiers
Itamar Marcus and Nan Jacques Zilberdik
|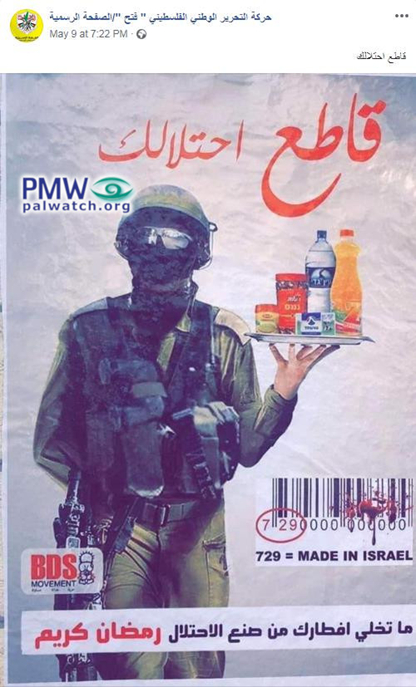 A poster and two cartoons call on Palestinians to boycott Israeli food products that are available in Palestinian stores.
Instead of the PA encouraging normal relations between Palestinians and Israelis, the PA does not hesitate to call on Palestinian to bring hardship upon themselves as part of the PA's anti-Israel hate campaigns. Recently, Palestinian Media Watch reported that the PA stopped permitting Palestinians to use Israeli hospitals for treatment the PA hospitals cannot supply, even though they are only a short drive away, and instead is forcing sick Palestinians to travel to Egypt and Jordan for hospitalization. Calling on Palestinians to adjust their normal food purchases because of the PA's political agenda is another example of the PA demanding hardship of their own population for the PA's political agenda.
The poster above posted by Abbas' Fatah movement shows an armed Israeli soldier carrying a tray with 6 Israeli food products and instructs Palestinians to:
"Boycott your occupier"
On the lower left side is the logo of the Boycott, Divest, and Sanction (BDS) movement, and to the right is a barcode splattered with blood with the first three digits - 729 - circled to show how to identify Israeli products. At the bottom of the barcode is written in English: "729 = MADE IN ISRAEL"
Text at bottom of image calls:
"Do not let your fast-breaking meal consist of the occupation's products. A blessed Ramadan."

Official Fatah Facebook page, May 9, 2019
The poster visualizes for Palestinians the PA accusation that buying Israeli products supports the Israeli army.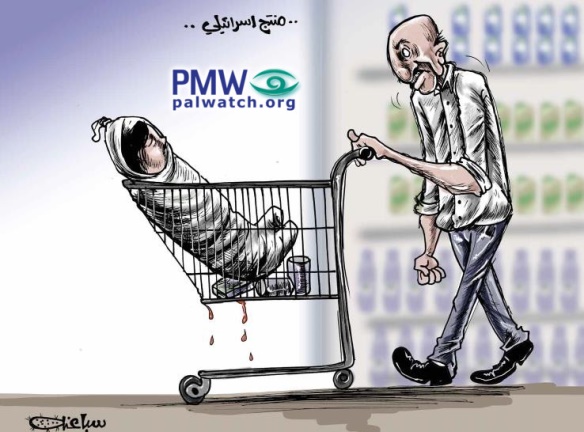 Two recent cartoons published by the official PA daily are also part of the current PA campaign to boycott Israeli products. The cartoon below named "Israeli product" shows a man pushing a shopping cart in a store and inside the cart is a wrapped-up Palestinian dripping blood. [Official PA daily Al-Hayat Al-Jadida, May 23, 2019] The message repeats the Palestinian slander that buying Israeli products funds killing Palestinians.
Another cartoon, titled "The Israeli products," seems to criticize the fact that Israeli products are even being sold to Palestinians and that Palestinians agree to buy them:

The cartoon shows a Palestinian/Arab man in a store looking at Israeli items on the shelves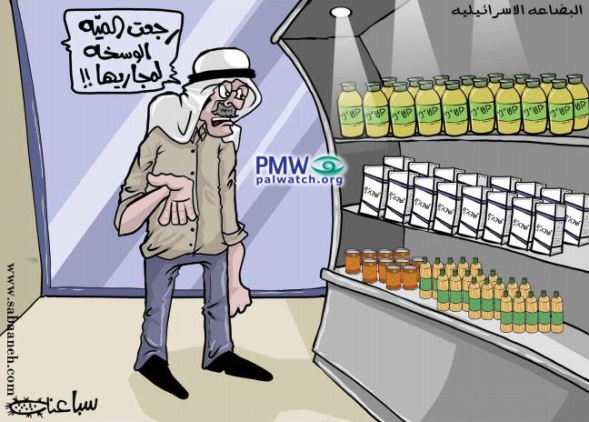 with Hebrew gibberish written on them. The man is saying:
"The dirty waters are back on course!"


Official PA daily Al-Hayat Al-Jadida, May 24, 2019