Head of PLO Prisoners' Affairs Commission expresses "his sincere sorrow and condolences" over death of father of imprisoned terrorist who murdered 11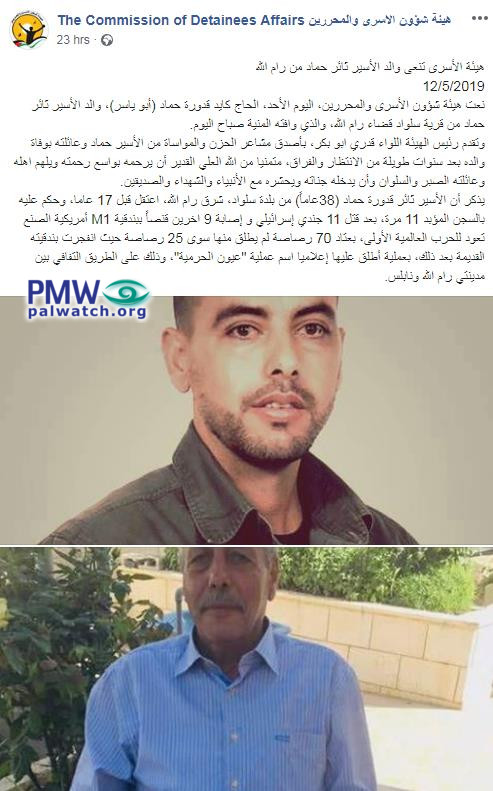 The image shows terrorist Thaer Hammad, who murdered 10, in a prisoner's uniform.
The image shows Kayed Qadura Hammad, the father of terrorist Thaer Hammad.
Posted text: "The [PLO] Commission of Prisoners' Affairs today, Sunday [May 12, 2019], announced the death of Kayed Qadura Hammad 'Abu Yasser,' the father of prisoner Thaer Hammad (i.e., terrorist, murdered 10)…
Director of the Commission Qadri Abu Bakr today expressed his sincere sorrow and condolences to prisoner Hammad and his family over the death of his father, after long years of waiting and separation. He expressed hope that Supreme and All-Powerful Allah will wrap him in His many mercies, will endow his family with patience and consolation, and will admit him into Paradise together with the prophets, Martyrs, and righteous.
It should be noted that prisoner Thaer Qadura Hammad (38) from the town of Silwad, east of Ramallah, was arrested 17 years ago and sentence to 11 life sentences after he killed 11 [Israeli] soldiers (sic., he murdered 3 Israeli civilians and 7 soldiers) and wounded nine others with an American M1 rifle from the World War I period. He was armed with 70 bullets, of which he fired only 25. Afterwards his old rifle exploded."
Thaer Hammad – Palestinian terrorist serving 11 life sentences for murdering 3 Israeli civilians and 7 soldiers by shooting them with a sniper rifle from a hilltop in Wadi Al-Haramiya between Ramallah and Nablus on March 3, 2002.