Map of "Palestine" that erases Israel posted on Facebook page of Abbas' religious advisor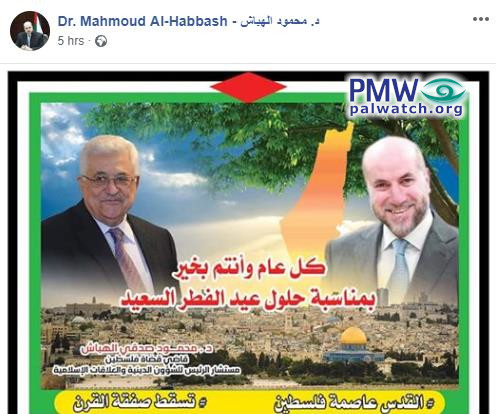 The image shows PA Chairman Mahmoud Abbas on the left and Supreme Shari'ah Judge and Abbas' advisor on Religious and Islamic Affairs Mahmoud Al-Habbash on the right. Below them is Jerusalem, with the Temple Mount in the foreground. To the left of Al-Habbash is the PA map of "Palestine" that presents all of Israel as "Palestine" together with the PA areas.
Text at center of image: "Happy Eid Al-Fitr (i.e., Muslim holiday marking the end of Ramadan)"
Text on left of image towards bottom:
"Dr. Mahmoud Sidqi Al-Habbash
Supreme Shari'ah Judge of Palestine
and [PA] President [Mahmoud Abbas'] advisor on Religious and Islamic Affairs"
Text at bottom of image: "#Jerusalem_the_capital_of_Palestine
#Down_with_the_deal_of_the_century (refers to US President Donald Trump's as yet unpublished Middle East peace plan –Ed.)"
Mahmoud Al-Habbash also holds the position of Chairman of the Supreme Council for Shari'ah Justice.