Trump burnt in effigy at demonstration against Bahrain Conference
Posted text: "From the confrontations that broke out at the northern entrance to Bethlehem following a mass participant procession of rage that went out from Nisan Square against the deal of the century (refers to US President Donald Trump's as yet unpublished Middle East peace plan –Ed.) and the Bahrain conference (refers to US-led conference in Bahrain in June 2019 focusing on economic aspects of Trump's Middle East peace plan –Ed.). The PLO factions in the Bethlehem district organized [the procession]."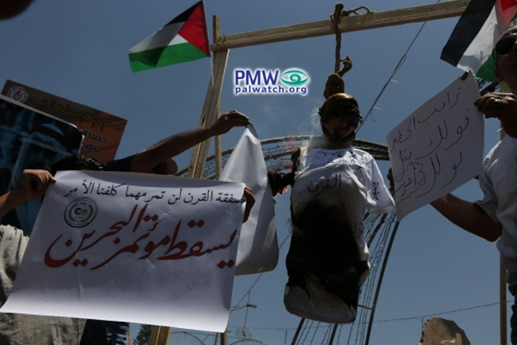 The image shows an effigy of US President Donald Trump being hung on a gallows and burned. The effigy's face is a picture of Trump's face and it is wearing a wig meant to resemble Trump's hair.
Text on effigy's shirt: "The Deal of the Century" and "The Bahrain Conference"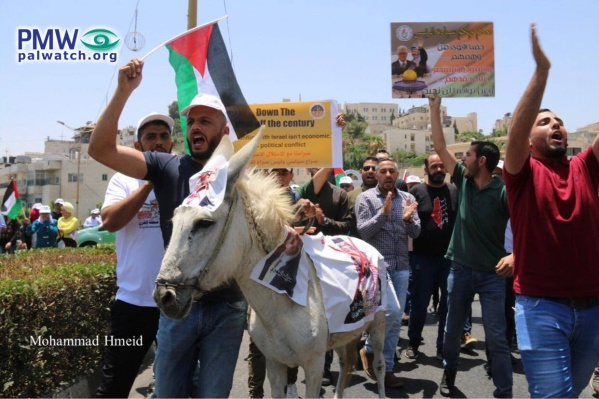 The image shows a donkey with pictures of Trump and King of Bahrain Hamad bin Isa Al Khalifa on it. The demonstrators are waving Palestinian flags and carrying signs, and one demonstrator is wearing a black shirt with the PA map of "Palestine" that presents all of Israel as "Palestine" together with the PA areas; the map is colored red.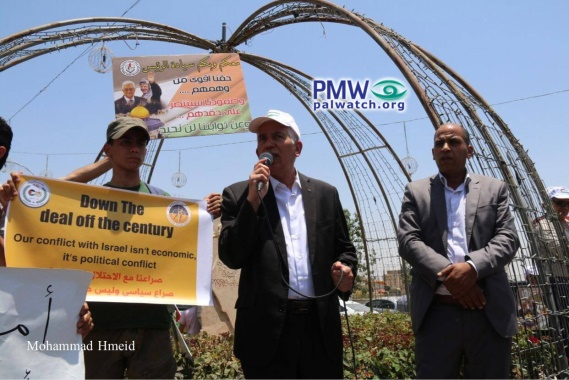 The image shows Bethlehem District Governor Kamel Hamid giving a speech at the event. To the left a young Palestinian is holding a sign.
Text on sign in English: "Down The deal off the century
Our conflict with Israel isn't economic, it's political conflict"