Palestinian universities' Fatah committee named after terrorist Dalal Mughrabi visits PA Minister of Women's Affairs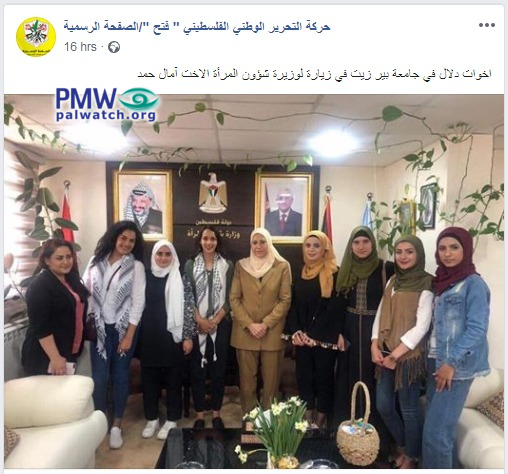 Posted text: "The Sisters of Dalal (i.e., Palestinian universities' Fatah committee named after terrorist Dalal Mughrabi; see note below) at Birzeit University in a visit to [PA] Minister of Women's Affairs Amal Hamad."
The image shows the Sisters of Dalal members visiting PA Minister of Women's Affairs Amal Hamad in her office. On the wall in the background are pictures of former PLO and PA Chairman Yasser Arafat and PA Chairman Mahmoud Abbas.
Dalal Mughrabi – female Palestinian terrorist who led the most lethal terror attack in Israel's history, known as the Coastal Road massacre, in 1978, when she and other Fatah terrorists hijacked a bus on Israel's Coastal Highway, murdering 37 civilians, 12 of them children, and wounding over 70.
Yasser Arafat – Founder of Fatah and former chairman of the PLO and PA. During the 1960s, 70s and 80s Arafat was behind numerous terror attacks against Israelis. Although he received the Nobel Peace Prize in 1994 together with then Israeli Prime Minister Yitzhak Rabin and then Israeli Minister of Foreign Affairs Shimon Peres "for their efforts to create peace in the Middle East" after signing the Oslo Accords peace agreement, Arafat launched a 5-year terror campaign - the second Intifada (2000-2005) – in which more than 1,000 Israelis were murdered. Arafat died of an illness in 2004.