Fatah announces with "great honor and pride" death of attempted stabber, a "heroic Martyr"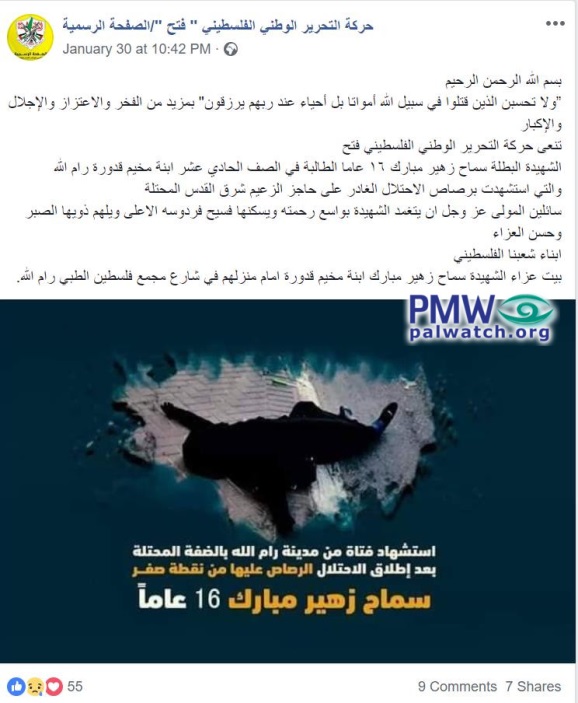 Image shows terrorist Samah Mubarak lying on the ground after being shot during her attempted attack.
Posted text: "In the name of all merciful Allah
'And never think of those who have been killed in the cause of Allah as dead. Rather, they are alive with their Lord, receiving provision' [Quran, Sura 3:169, Sahih International translation].
With great honor and pride the Fatah Movement announces the death of heroic Martyr (Shahida) Samah Zuheir Mubarak (i.e., terrorist, attempted to stab Israeli), 16, an 11th grader from the Qadura [refugee] camp/Ramallah,
who was shot and killed by the occupation at the Al-Za'ayyem checkpoint east of occupied Jerusalem
We ask Almighty Allah to wrap the Martyr in His mercy, let her dwell in supreme Paradise, and grant her relatives endurance and condolences."
Text on image: "The death as a Martyr of a girl from Ramallah in the occupied West Bank, after the occupation shot her from point-blank range –
Samah Zuheir Mubarak, 16"

Samah Mubarak – 16-year-old female Palestinian terrorist who attempted to stab a female Israeli border police officer at a checkpoint east of Jerusalem on Jan. 30, 2019. Mubarak was shot and killed by a civilian security guard during the attack.