Abbas advisor following attacks on Saudi blogger while visiting the Temple Mount: Those who visit Jerusalem in the framework of "normalization" are not welcome and will be cursed
The post was published following the visit of a Saudi Arabian blogger, Muhammad Saud, to the Al-Aqsa Mosque. Saud was attacked by Palestinians on the Temple Mount and in the Old City of Jerusalem for being part of an Israeli Ministry of Foreign Affairs delegation – chairs were thrown at him, and he was called a "Zionist" and "garbage" and told "Go pray in a synagogue, not at the Al-Aqsa Mosque."
Text posted on the Facebook page of Supreme Shari'ah Judge, PA Chairman Mahmoud Abbas' Advisor on Religious Affairs, and Chairman of the Supreme Council for Shari'ah Justice Mahmoud Al-Habbash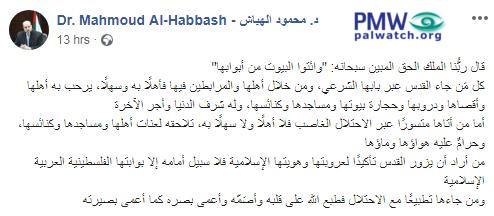 Posted text: "Our Lord, the King, the Clear Truth, may His name be praised, said: 'Enter the houses through their doors.'
Anyone who enters Jerusalem through its legal door, and through its residents and those carrying out Ribat (i.e., religious conflict over land claimed to be Islamic) – welcome. Its residents, Al-Aqsa Mosque, trails, and the stones of its houses, mosques, and churches will welcome him, and he will be honored in this world and rewarded in the World to Come.
But anyone who comes to it under the auspices of the oppressive occupier is not wanted. The curses of its residents, mosques, and churches will pursue him, and its air and water are forbidden to him.
The only path open to anyone who wishes to visit Jerusalem in order to emphasize its Arabness and Islamic identity is its Arab-Islamic Palestinian gate; and whoever comes to it in the framework of normalization with the occupation – Allah seals his heart, hearing, and vision."