Fatah "daily message": Ribat in Jerusalem obligate Palestinians "until Judgment Day"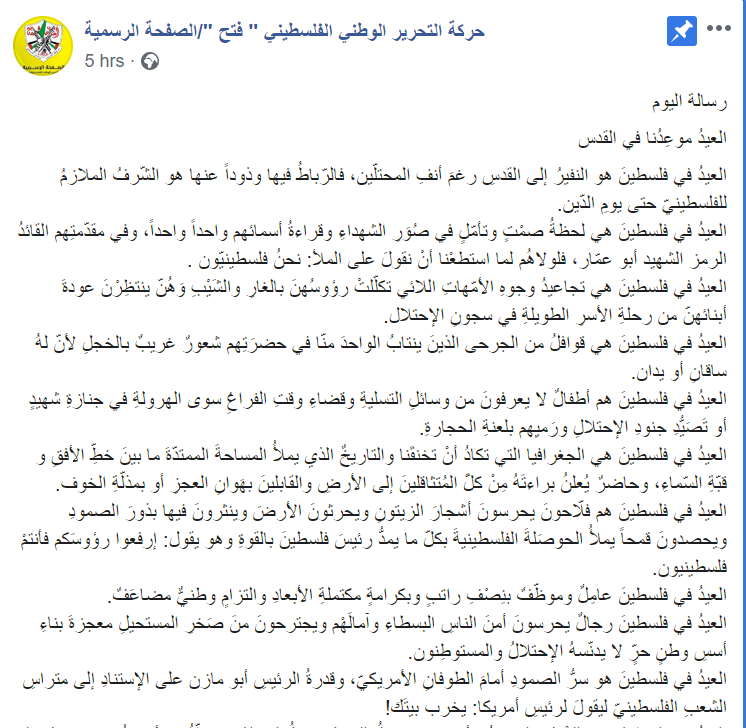 Text posted on the official Fatah Facebook page
Posted text:
"The daily message: 'On this holiday, on this commemorative date in Jerusalem
The [Eid Al-Adha]holiday (i.e., the Sacrifice Feast) in Jerusalem is the call to mobilize for Jerusalem, despite the occupiers, as Ribat (i.e., religious conflict over land claimed to be Islamic) in it andits defense are an honor that obligates Palestinians until Judgment Day.
The holiday in Palestine is the wrinkles of mothers whose heads are decorated with laurel leaves and gray hair, while they await the return of their children from the long journey of captivity in the occupation's prisons.
The holiday in Palestine is convoys of wounded in whose presence we are filled with a strange feeling of shame because we have two legs and arms.
The holiday in Palestine is children who do not know how to have fun and pass the time, aside from quick walking at Martyrs' funerals, or hunting occupation soldiers and stoning them with the curse of rocks…
The holiday in Palestine is the secret of the resolve before the American flood and [PA] President Mahmoud Abbas' ability to lean on the shield of the Palestinian people and to tell American President [Donald Trump]: 'May your house be destroyed.'
…
Aug. 11, 2019
A [Fatah] Movement daily message edited by Secretary of Fatah's Poland Branch Dr. Khalil Nazzal"