Israeli cities depicted as part of "Palestine," erasing Israel, in map on Fatah Facebook page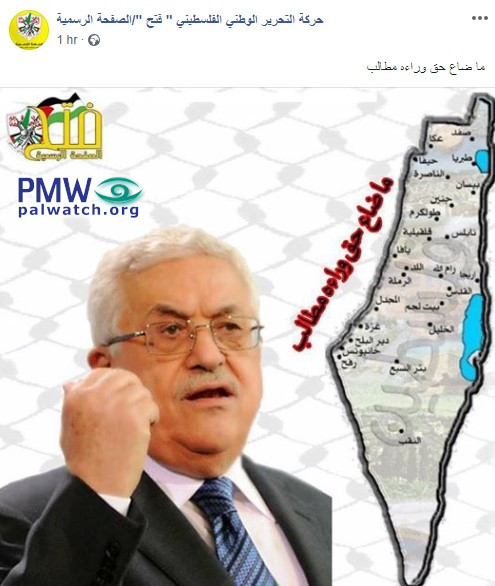 Posted text and text next to map: "A right that has someone who demands it will not be lost."
The image shows PA Chairman Mahmoud Abbas gesticulating with his hand, and to the right of him the PA map of "Palestine" that presents all of Israel as "Palestine" together with the PA areas. On the map is written "Palestine" and the names of both Israeli and PA cities and areas, including Safed, Acre, Tiberias, Beit Shean, Haifa, Nazareth, Jaffa, Lod, Ramle, Al-Majdal (i.e., Ashkelon), Be'er Sheva, and the Negev. In the upper left corner is the Fatah logo that includes a grenade, crossed rifles, and the PA map of "Palestine." Alongside the logo is the Palestinian flag and the word "Fatah.