Fatah promotes libel that Israel arrested 5-year-old boy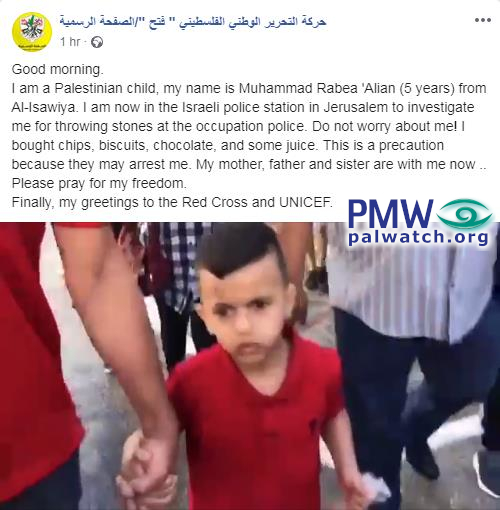 Video and text posted on the official Fatah Facebook page
Posted text in English: "(All errors in source –Ed.) Good morning.
I am a Palestinian child, my name is Muhammad Rabea 'Alian (5 years) [parentheses in source] from Al-Isawiya (i.e., predominantly Arab neighborhood of Jerusalem). I am now in the Israeli police station in Jerusalem to investigate me for throwing stones at the occupation police (sic.). Do not worry about me! I bought chips, biscuits, chocolate, and some juice. This is a precaution because they may arrest me. My mother, father and sister are with me now .. Please pray for my freedom.
Finally, my greetings to the Red Cross and UNICEF."
Note: Muhammad Alyan's father was summoned for investigation after his 5-year-old son threw rocks at a police patrol car. The father brought Muhammad with him to make it appear as if the boy had been summoned.
The video shows Muhammad Alyan, a boy from the Issawiya neighborhood of Jerusalem, being brought by his father to an Israeli police station after the father was summoned for investigation.