Demolished house of mother of 6 terrorists to be rebuilt, funded by Abbas' office
Headline: "Rebuilding the Abu Hmeid family's house in accordance with the [PA] president's promise"
"'They will not break us, they demolish and we build' – thus responded Um Nasser [Abu] Hmeid (i.e., mother of terrorists responsible for at least 10 murders; see note below) to the occupation, which demolished her home in the Al-Amari refugee camp in Ramallah in the early morning hours of Dec. 15 [2018]. Currently, Um Nasser has begun to realize her words: The rebuilding of the four story house is being conducted with full vigor, and the construction of the first floor is already finished. It is being funded by [PA] Presidential Office and is being carried out by the popular committee to serve the refugees in the Al-Amari camp.
Um Nasser said to [the independent Palestinian news network] Raya that the construction of the house is expected to conclude at the end of this year [2019]. She thanked [PA] President [Mahmoud] Abbas for his support for her family…
It should be noted that the [PA] Ministry of Public Works began to remove the ruins of Um Nasser's demolished house at the beginning of January this year."
The article includes a video showing the reconstruction of the Abu Hmeid house.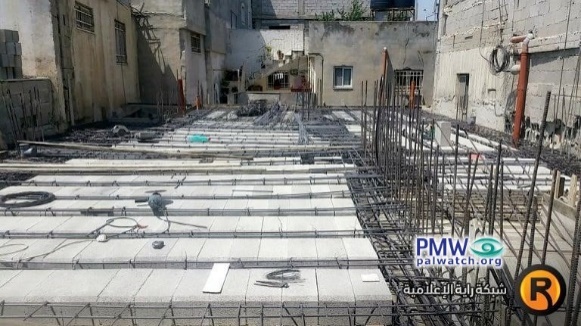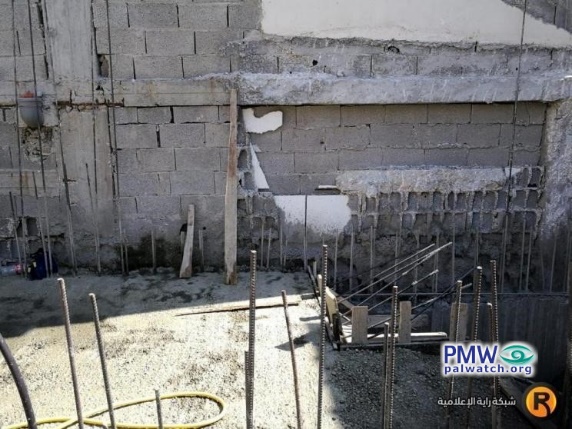 Um Nasser Abu Hmeid (Um Yusuf Abu Hmeid/Latifa Abu Hmeid) – Palestinian woman famous and admired in the PA for being the mother of 5 terrorist prisoners serving life sentences (4 of them serving multiple life sentences), and another whom the PA refers to as a "Martyr." Abu Hmeid is also called Khansa of Palestine, which refers to Al-Khansa from the earliest period of Islam who sent her four sons to battle and rejoiced when they all died as Martyrs. Abu Hmeid was honored by the PA in 2010 and 2015, and was chosen in 2011 to launch the PA's statehood campaign with the UN. Her terrorist sons: Islam Yusuf Abu Hmeid, murdered 1 on May 24, 2018, and is serving life in prison and an additional 8 months; Muhammad Abu Hmeid, serving 2 life sentences and 30 years for involvement in terror attacks; Nasser Abu Hmeid, serving 7 life sentences and 50 years for murdering 7 Israeli civilians and 12 attempted murders; Nasr Abu Hmeid, serving 5 life sentences for involvement in two terror attacks in which 4 were murdered, and arms dealing; Sharif Abu Hmeid, serving 4 life sentences for involvement in terror attacks in which 4 were murdered; Abd Al-Mun'im Muhammad Yusuf Naji Abu Hmeid, murdered 1 on Feb. 13, 1994, and was killed by Israel on May 31, 1994.


» View analysis citing this item